Deciphering tests for herpes simplex virus. Methods for detection of the pathogen, the interpretation of the results.
Content
---
Assays for herpes simplex virus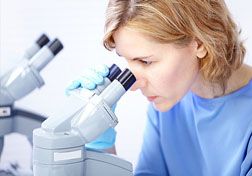 Herpes simplex virus - one of the representatives of TORCH-infections, particularly dangerous for pregnant women. Identify it in the body usually produced by enzyme immunoassay.
The essence of the enzyme immunoassay
When ELISA reveal two types of immunoglobulins (antibodies) to the herpes simplex virus - IgG and IgM. A study to determine:
Whether got past the virus into the body;
for the first time whether the sick person or is it a relapse;
whether immunity to herpes there.
As a result, it is determined whether there are corresponding antibodies in the blood.
Explanation and interpretation of results
IgG - no, IgM - is absent. Contact with the virus has never happened before. Pregnant women should repeat analysis every quarter.
IgG - no, IgM - there. The first infection. The risk of getting the virus in the blood of the fetus is high. Possible infection of the child at birth.
IgG - there, IgM - there. Relapse (recurrence) of infection. fetus transmission risk is quite high.
IgG - there, IgM - is absent. Full immunity. Healthy persons infected with the disease can not.
Polymerase chain reaction
The second method of diagnosis - polymerase chain reaction. Using PCR analysis revealed only the mere presence of the virus in the body. The result is evaluated as positive or negative.
Analysis Form prescribed infectious diseases doctor, a gynecologist.