The pharmacy can be found several drugsbrand "Dr. Mom". For Russia, these drugs made in India. In this country for a long time of active use of the forces of nature to cure different diseases. As part of these funds, you will see a lot of medicinal extracts and oils from medicinal plants.
A variety of products series "Doctor Mom"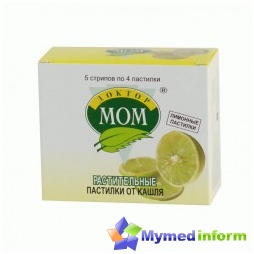 In the production of preparations of a series "Doctor Mom" ​​used by many long-familiar ingredients - licorice, aloe, Basil, ginger, menthol ... Is there suchgrass, which do not occur in the mid-latitudes, for example, adatoda Wasicka, cubeb, turmeric, Indian nightshade. The combination of a large number of herbs gives the drugs ability to eliminate dry cough, Clean the bronchial tree from bad outgoing mucus, reduces inflammation, remove headaches and muscular pain to shoot down high temperature. At present, "Dr. Mom" ​​is found in the pharmaceutical industry in four dosage forms:
delicious cough syrup;
lozenges (pastilles), cough and sore throat;
ointment is used topically for colds;
Roller pen, which can also be applied externally.
MipSovetov will help to understand in which cases recourse to a particular product.
Syrup "Doctor Mom"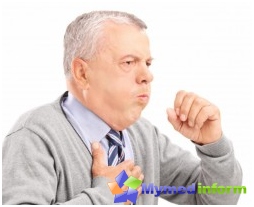 These candies are available several flavors: lemon, orange, strawberry, raspberry, pineapple, fruit, berry. They differ not only in taste, but also color - yellow, orange, red, green, purple, brown and pink. But the active ingredients in all seven types of lozenges identical: extracts of ginger, licorice, embliki drug and menthol. These components are very active, so the candy should not be given to children under fourteen years of age. Components lozenges endow their anti-inflammatory, antispasmodic, expectorant action. When the pain in the throat, soreness, dryness of mucous, sore, coughing slowly resorbed by one or two lozenges every two hours. The maximum daily sucked can be no more than 10 lozenges. Pregnant women should not take them, because they contain preservatives, flavorings, colorings. If the application of 'tasty tablets "you feel a burning sensation or found a skin rash, then this drug allergy symptoms, increased sensitivity of your body to any component of the formulation. So, these lozenges you can not be used for treatment.
Ointment "Doctor Mom"
This drug combines: thymol, turpentine oil, menthol, camphor, eucalyptus oil and muscatel, colorless jelly. This ointment may improve breathing in coldsFacilitate for rhinitis, to reduce the pain of migraine, Radiculitis. It is possible to apply a thin layer on the wings of the nose, the temples and rubbed into the sore spots. In the case of cough ointment is applied to the chest area and neck. Treatments can be done three times a day, with the latter application is best done before bedtime. Be careful that the ointment accidentally gets into your eyes, or start burning and tearing strong. Hands after applying the ointment carefully wash under running hot water, using soap. The manual says that children for the treatment of manifestations of cold cream can be used with two years of age. However, many pediatricians recommend it, even the smallest, explaining its purpose in that the device is non-toxic, it is used only externally. At the first sign of ARI baby can be a thin layer of ointment applied to the nose (but not the inner mucosa), and foot, then wearing socks on the feet. Three or four days of this treatment - and a child goes on the mend. When skin diseases, the presence of scratches or abrasions should not be applied ointment. This tool can be applied to pregnant women if they have a cough, rhinitis, headache.
Roller pen "Doctor Mom"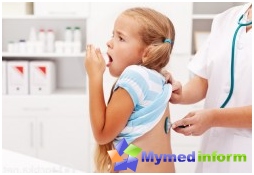 Especially convenient to use this medicationout. Just put it in your handbag and use, if you suddenly had a headache or a cold start. This tool shows the analgesic, anti-inflammatory effects and distracting. At a cold to relieve swelling of the nasopharynx it is recommended to inhale the vapors emanating from the pencil. They can treat the skin on the nose, around the nostrils, in the temples. Damaged areas of the skin can not handle these drugs. From it should be discarded in the case of individual intolerance, as evidenced in skin redness, rash, swelling. Use the tool to treat children as possible, since the age of two. Do not apply it in the area under the eyes, directly on the mucous membranes.
With their home medicine cabinet drugs from the series "Doctor Mom", you can help yourself and your family when suddenly nastignuvshih respiratory diseases, cough, rhinitis, Pain.