Many probably know the famous phrase: "If a cold treat, it will be held for seven days, if not treated, for the week." Oddly enough, this is true: the immune system of our body is quite capable to cope with SARS, and even the flu for a week or two.
Content
---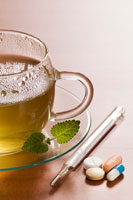 However, it is not
means that the disease can be ignored: influenza and other acute respiratory viral infections,
fired to chance, can lead to dangerous complications and even death. Besides
that in itself cold - it's hard for us to state. The disease can
accompanied by high fever, severe headaches, coughing,
diarrhea ... well, pleasant enough.
Not surprisingly,
we hook or by crook tried to get rid of the flu and other acute respiratory viral infections,
what storm the nearest pharmacy in search of the best medicines. And How
Generally, we stop in front of a showcase at a loss, because of drugs
a great variety of influenza. How to choose the medicine that will help
we get rid of the disease?
Of course, if
the first sign of a cold is best to consult a doctor. He will appoint
necessary tests to make an accurate diagnosis, and proper advise
medicine. Unfortunately, to see a doctor, we are accustomed to only when
cold develops into something more serious. Well, will have to
to understand the variety of drugs.
independently
selecting drugs for the treatment of influenza, we usually opt
on one of the following medicines: homeopathy, reducing the severity of symptoms,
antibiotics, drugs etiotropic. Just how effective are they?
A little about
homeopathy
The most controversial,
perhaps, are the homeopathic remedies from the flu. Their effectiveness is still
has not proven scientifically, moreover, studies
It shows that the result of homeopathic remedies is at ...
placebo ie innocuous soother. It is no accident the experts of international
Cochrane Society evidence-based medicine by results of the 2009 study
year concluded that homeopathic remedies can not be applied in
as monotherapy influenza and SARS. But a year later, and the Committee on Science
UK Parliament's technology was more strict in its conclusions: "a systematic assessment and meta-analysis
definitively demonstrate that homeopathic products work better than a placebo. "
It is worth
mention the use of homeopathic medicines as monotherapy
colds in children. Since children are at risk for
severe course of influenza and SARS, they should take homeopathy only at
complex with conventional antiviral agents.
Of course,
a final decision on the admission of these drugs to take you, but we
strongly recommend not limited to one only by homeopathy in the treatment of
influenza and other acute respiratory viral infections.
Antibiotics - not from
Total
Not so long ago
Antibiotics are among the most popular medicinal groups we
bought for self-treatment of colds. And buy
in vain, because antibiotics are effective only against bacteria, and very inefficient
against viral infections, which are the flu and SARS.
Your doctor may
prescribe antibiotics only if the risk occurs when the disease
development of bacterial complications. Independently take medication that
group desired.
With the temperature or
without?
Perhaps the most
we buy products that remove or facilitate common cold symptoms: runny nose,
fever, chills, cough. They seem to be the most effective, because the
literally ten to twenty minutes after administration, we feel better, we
it seems that the cold receded.
Alas, this is deceptive
impression. Moreover, withdrawal symptoms drugs can have "bear
service ", because the increase in body temperature - it is a natural defense mechanism
our body. Experts recommend to reduce it only if
it exceeds 38.5 degrees (for children - 38 degrees).
The biggest
lack this group of drugs is that they have no effect
on pathogens - viruses. Yes, our well-being is improved by receiving
these drugs, but to protect the organism from the development of complications they
able. Manufacturers understand this and market new tools appear,
combining just two effects: withdrawal symptoms and the fight against viruses. Usually,
they contain vitamin C, an antihistamine and rimantadine, they and
We must resist disease, simultaneously easing the severity of
symptoms.
Unfortunately,
It is not so rosy. Cochrane Society Studies have proven experts
inexpedient use of antihistamines with SARS, as they
do not protect against complications and have side effects.
rimantadine is
acts only against influenza type A viruses, which severely limits its
the use for the treatment of SARS. Also widespread worldwide
resistant to this drug strains of influenza virus.
Right choice
The only kind of
Therapy that is recommended by the World Health Organization experts,
This causal antiviral therapy. Medicines of this group too much on
the shelves of pharmacies, to select the most effective will be easy. Incidentally, the aforementioned
rimantadine fall into this group of drugs.
Among the antiviral
funds are two new, but already popular product,
promising quick relief from the disease. Unfortunately, at the moment, you can
to say that the evidence base of these new drugs is a number
criticisms. Moreover, if "dig deeper", it turns out that
One of these new agents as active substance contains a stimulant
leykopoeza commonly used in cancer patients and to differentiate
maturation of neutrophils and in the second, who announced his "arrival"
in advertising to the whole country, part of a natural polyphenol gossypol cotton,
which was tested in China as a male contraceptive. Responsibility for
the use of such drugs for the treatment of SARS can take
Only an expert!
With self
treatment, we recommend that only those drugs that have
a proven mechanism of action and effectiveness has been proven by clinical
research, not only in our country but also abroad. Same
Arbidol, known to many, despite all its shortcomings, it has a broad
evidence base, although a bit dated.
results
foreign laboratory studies confirm the effectiveness of Arbidol against
a wide range of viruses, including those causing respiratory and intestinal
infection. For this preparation is a target for influenza virus and other
SARS.
Some
experts believe that Arbidol does not act so much as the other
etiotropic preparations of foreign production, so use it to
treatment of influenza only mild to moderate severity and other acute respiratory viral infections as well as for
prevention.
Statistics say
that the average person spends on colds about four years of
life. This is a very long time, and it is good that we have a choice of products,
which can significantly reduce it!