Moroccan bath, massage with herbal bags and anti-cellulite massage Thai ... More on that in this article.
Content
Moroccan bath
This is one of the most interesting novelties
season. The highlight of it - to use natural cosmetics come from
hot Morocco. After the pre-steaming in the sauna or
hammam, your skin is purified by the famous "black soap". his
structure - virgin olive oil and herbal extracts. Soap
delicate and deep cleans. The skin becomes smooth and silky.
After
comes the turn of the peel - it is also a natural, contains real
sea ​​salt and essential oils. It allows to open the pores and deep
Pts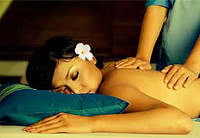 istit skin.
The next stage - massage oak twigs, which will give you a lot of pleasant sensations.
AT
Finally, a relaxing massage is performed with shea butter. Main
the result of all these manipulations - remarkably delicate skin. Besides,
Moroccan SPA-procedures perfectly relieve stress and fatigue.
Massage with herbal bags
This
technique has come to us from Thailand. Zest it is that during
massage using hot herbal pouches. They - ginger, turmeric,
lime, patchouli, camphor and other medicinal plants. They have
anti-inflammatory and analgesic effect and give you a pleasant
Feel.
A combination of traditional Thai massage and massage
herbal bags can improve blood and lymph circulation,
increases joint mobility, relaxes and improves elasticity
muscles, eliminates pain and spasms, improves the functioning of internal organs.
Complete relaxation with gentle warming up the muscles of the body - the main action when dealing with herbal bags.
Anti-cellulite massage Thai
This
technique is particularly relevant in the run-up to the beach exits. It gives
the effect of rapid loss of volume is in problem areas. And what
greater excess centimeters at the waist or hips, the greater will be
Effect.
Furthermore, after this it decreases appetite and massage
improves metabolism. After the sensitive hands of masseuses
literally push out toxins, do not want to disturb
diet and overeating. Cleansing the body requires a simple light meal that,
of course, it contributes to further weight loss.
The main secret of massage - Thai special cream «Gold Shape». At its heart - the pollen of Garcinia plants, as well as extracts of ginkgo biloba,
red pepper, menthol and ginger. They activate
blood and lymph circulation, promote "burning" of fat and excretion
harmful substances. That is, at the same time is and cellulite, and
"Antiobemny" effect. The session lasts about half an hour. During this time the treated one or more problematic areas. As a result, the skin is leveled, the volumes go, but instead comes a sense of lightness and lifting.