Useful information on how to stop drinking alcohol. Find out whether a person can be forced to stop drinking alcohol and what methods of treatment for alcoholism today are most effective.
Content
---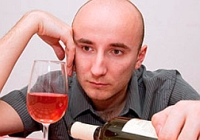 Alcohol dependency problem, and the problemsmoking, visibly rejuvenated in recent decades. Alcoholism - a bad habit at first, and serious illness in the future, because of which the collapse of life and family. People are starting to drink at first on holidays or for your company, and then can not relax and enjoy life without alcohol. Perhaps the problem stems from the fact that any festival in our country, even the family - from birth and ending with the New Year, followed by alcohol. In today's world of beer alcoholism is widespread. Beer seems at first glance innocuous drink, but it is wrong. Beer alcoholism is especially common among young people.
The problem of the treatment of alcoholism is thatif the person does not recognize his disastrous relationship and decides to be treated, it is nothing, and no one will help. Treat force in Russia is impossible. A large number of families, faced with this problem, are wondering whether it is possible to make a person stop drinking. This is a hard question ... Rather, you can try, but the result will depend on the awareness and the ability to drinking at least occasionally sober view of things. Coping with alcoholism can be, for this there are many different ways, but the first step should be for the person suffering from this disease: it is necessary to admit, even to himself, in alcohol addiction and really want to get rid of it.
Signs of alcoholism
The main symptoms of alcoholism is consideredstrong craving for alcohol, a need to increase the dose of alcohol hangover, amnesia, depression, psychosis. Alcoholics can not stop and even ready to drink alone. The external manifestations of severe alcohol dependence include:
trembling hands;
weight loss (with beer alcoholism - on the contrary, weight gain);
redness of the skin (characterized by redness of the hands and the face);
vasodilation;
behavioral change;
irritability;
good mood only tipsy state.
There are male and female alcoholism. Female alcoholism develops faster. For female alcohol dependence is characterized by a change of vital interests. Often, women who drink no longer take care of their appearance and their children. There are ladies, carefully hiding his illness. For male alcoholism is characterized by indifference in the choice of alcohol, aggression and uncontrolled emotions.
Methods of treatment of alcohol dependence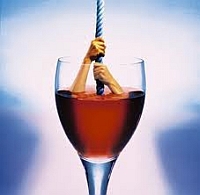 Pledge of successful treatment - an initiative of the alkogolezavisimogo. For the treatment of alcoholism medicine offers the following features:
withdrawal from binge (at home or in a hospital);
elimination of alcohol from the body;
help therapists and hypnosis;
filing capsule;
means intravenous and intramuscular injection (akvilong and algominal);
opioid receptor blockers;
rehabilitation.
Successful rehabilitation is important inlater life. In most cases, it determines whether the patient comes to a normal life or return to alcoholism. In the process of rehabilitation of the person it is important to reevaluate his life and to understand that alcoholism is an illness - which prevents him from fully open or in a family or in the work plan. Most importantly, what needs to learn the kind of person - to cope with the stresses and problems of their own, and not using alcohol.