One of the characteristic symptoms of this disease,that scares "novice" the patient is itching hemorrhoids in the anus. Non-surgical treatment of hemorrhoids is still possible, if not delay the visit indefinitely, immediately go to the doctor.
Content
---
The emergence of itching of hemorrhoids are usually very scared andIt is alarming those who first encountered this "inconvenient" disease. The appearance of the painful feeling of itching provokes regular scratching, which can lead to rupture of the vein wall and natural deterioration. Permanent marker is itching hemorrhoids and requires immediate treatment to the doctor for the appointment of adequate treatment.
Diagnosis of the disease is always based onthe patient's complaints and the emergence of such unusual sensations often associated with the use of sharp, sharp and salty foods accompanied by alcohol, after a bowel movement, under the influence of chemicals at work, in the presence of helminthic infestation, diabetes or fungus.
In a hospital or on an outpatient basis will be providedimmediate assistance with clear guidelines on the application of the necessary ointments and rectal suppositories with regard to the stage, the localization of the pathological process and individual characteristics of the skin in order to prevent the development of dermatitis.

Non-surgical treatment of internal and external hemorrhoids
As a sedative and antipruriticagent for non-surgical treatment of hemorrhoids may be recommended Gistanol, diphenhydramine, Tavegil, various ointments with menthol and anestezin with flutsinar and betamethasone, these remedies can also be used at home. Great proved to be a warm hip baths with the addition of herbs, lasting about 20 minutes. A special role in this case, for obvious reasons, given to hygiene with regular cleaning the cold water. Recommended light diet, mikroklizm course with infusions of antiseptic herbs and oils, as well as the application of the ointment with diphenhydramine.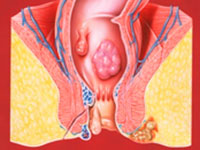 With timely visit to the proctologist in the casedetermining one or two stage surgical treatment of diseases assumed that the nodes have not always extend outwardly and bleeding occur occasionally. At this stage of development of the disease are recommended minimally invasive therapies that allow to see the "Photo" is not only external hemorrhoids, but also a picture of the internal nodes. These methods include: sclerotherapy, laser removal of hemorrhoidal nodes, cryotherapy, photocoagulation with infrared radiation. Minor soreness and minor trauma, no need for prior training make these methods popular as doctors and patients. The use of these advanced techniques makes it possible to reduce the number of complications and relapses.
Photos external hemorrhoids - algorithm proctologist action
Patients with external hemorrhoids, timeask for help, to be together with your physician to determine when, how and what to treat this delicate condition. The patient can see both internal components and external hemorrhoids pictures only after endoscopic examination. In general, patients in the early stages of the disease go without surgery, and only 20% of the cases have to resort to surgery.
For the treatment of all types of this disease should bein an integrated manner, this includes not only Troxevasin hemorrhoids, but also a light diet with foods rich in fiber, a change of lifestyle, bath with a decoction of herbs, as well as physiotherapy, including:
sprint;

brisk walking and deep breathing;

brisk walking step with the slowdown, and many other health and fitness techniques.
Troksevazin Problems with hemorrhoids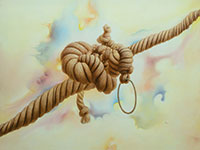 Like any drug therapy, Troxevasin solves several problems, among them:
relief of inflammation;

elimination of pain;

improving blood microcirculation and blood flow;

stop bleeding.
Troxevasin venous insufficiency inreduces the severity of hemorrhoids swelling, relieve pain, stop bleeding, and assigned or independently, or as adjuvant therapy after minimally invasive techniques. Contraindications to the use of this medication is almost not there, with the exception of pregnancy in 1 trimester, stomach ulcers and 12 duodenal ulcer, with caution and under medical supervision should be used in patients with renal insufficiency.