Bronchiectasis often beginslittle by little, gradually and does not attract much attention. Meanwhile, it can cause serious complications. To avoid them, it is important to see a doctor in time. Description of signs of disease can be found in the article.
Content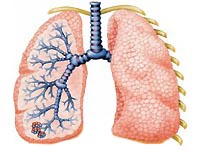 Bronchiectasis is called cylindrical orsaccular bronchiectasis with the loss of their drainage function. Bronchiectasis can be congenital or acquired. Congenital bronchiectasis rare. As a rule, they are caused by defects of the bronchi. Acquired bronchiectasis in children develop in the first 3 years of life often against a background of pneumonia complicating measles, whooping cough and others.
bronchiectasis development is promoted by the following factors:
Changing the bronchial wall elasticity
Blockage of the lumen of the bronchus tumor, purulent stopper foreign body
Increased pressure inside the bronchi (with prolonged cough)
For the characteristic of bronchiectasisDuring the long-term with periodic exacerbations. Patients may be concerned about for many years only to cough with gradually increasing amounts of sputum. At the same time periods of relative prosperity followed by periods of exacerbations, during which the body temperature rises, a significant amount of mucus is released (from 50 to 200-500 ml and more). Sputum purulent or muco-purulent, while standing in a vessel is divided pas three layers (lower - pus, medium - clear liquid, upper - mucus). Often seen in the sputum streaked with blood. In severe cases, pulmonary hemorrhage occur.
During exacerbation of common symptoms arechest pain, shortness of breath. The classic symptom of bronchiectasis - fingers in the form of drum sticks and nails in the form of time windows. Often these changes are accompanied by bursting pain in the hands and feet.

Stages of development of bronchiectasis
Manifestations of bronchiectasis depend on the stage of its development. There are three stages of the disease:
The first stage is marked intermittent cough with muco-purulent sputum, sometimes there are acute, resembling pneumonia

In the second stage bronchiectasis abscess; persistent cough appears with purulent sputum from 100 to 200 ml per day. Sometimes blood in the sputum appear streaks

In the third stage the disease becomes veryheavy. In fact, the lungs are gradually destroyed. The amount allocated purulent sputum increased to 500-600 ml per day; there are frequent hemoptysis, pulmonary hemorrhage. During this period, the disease affects other organs: heart, liver, brain, develop severe complications
It is important not to bring the disease to its advanced stages and in time to see a doctor.