The main causes of hair loss. Is it possible to somehow stop this process and that it needs to do?
Content
---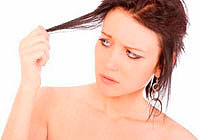 Hair loss can be triggered by the most
different factors, both external and internal:
poor diet;
lack of vitamins and minerals;
hormonal changes;
endocrine diseases;
stress;
sudden changes in temperature;
genetic predisposition.
How to reduce hair loss
Before you decide what to do if hair fall out,
necessary to establish the cause of baldness. If comprehensive health
Survey in your plans do not include, you can take some measures to reduce the
the effect of hair loss risk factors.
Correction of diet
The bulk of vitamins and trace elements, we
We get food, so the diet should be taken to a special care.
The content of protein and iron in the diet should meet the standards of the age,
and fruits, vegetables and dairy products need to be used without restrictions.
To make up for the lack of vitamins and minerals can be
use multivitamin complexes - many manufacturers offer special
vitamins to improve hair growth.
Combing
Replace conventional comb massage brush and
Pay combing few minutes a day. Combing the hair in different
directions brush massage will stimulate blood circulation in the scalp that
provides intensive nourishment and strengthening of the bulbs.
Care Cosmetics
The cosmetic industry offers today
Special shampoos and conditioners for different hair types, including for
falling. Such agents include natural extracts capable
restore the vitality of hair and stop hair loss. on the basis of Equity
ginseng, panthenol, jojoba oil, supplemented with vitamin PP, as well as possible
cope with the task, and can even completely stop loss
hair. Nettle, chamomile and menthol stimulate dyed hair, and Protein
horse chestnut extract give it a healthy glow.