Contracture brings a lot of trouble to hisowner. However, these troubles - is nothing compared to what could develop contractures in the absence of treatment. What are contractures and what are they dangerous? - The answers to these questions you will find in this article.
Content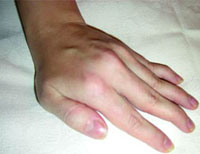 Contracture - limited joint mobility due to pathological changes in the soft tissues that are associated with the function of the joint.
If the joint is in flexion position,contracture is called flexion, extension - extensor, cast - leads, abduction - tapping, rotation - a rotation contracture. The degree of violation of joint function and range of motion in it characterizes the severity of the contracture.
Contractures are divided into congenital and acquired. Congenital contracture caused by underdeveloped muscles (torticollis), joints (clubfoot) and skin ( "swimming membranes"). These contractures) are rare.
The most commonly observed acquiredcontracture. They are divided into traumatic, inflammatory, paralytic, and degenerative fixation. If contracture initially affected any one fabric. Further pathological process captures the remaining tissue adjacent to the joint. Contractures can be:
Primary-traumatic, caused by reflex muscle tension in response to pulses from the damaged tissue.
Painful contractions caused by persistent reflex increase in muscle tone in response to the pain in the affected segment.
Painful contractions caused by persistent reflex increase in muscle tone in response to the pain in the affected segment.
Muscle contractions, which are formed with degenerative changes in the muscles, or caused by the increment of the muscles to the bones.
Scar contracture, scarring resulting from skin involvement in them, subcutaneous fat, muscles.
Arthrogenic contracture (joint) observed in atrophic, degenerative changes in the tissues of the joints.
Osteogenic contracture (bone) due to bone deformation, severely limits the range of motion.
Joint contractures may develop after burns, closed and open fractures, damage to muscles, tendons, nerves, blood vessels, etc.

Most often, contractures are mixed, as contracture, initially arising from changes in the one tissue, in the subsequent causes secondary changes in joint tissues.

Persistent contracture of any origin in the absence of treatment may increase up to the total loss of joint mobility - ankylosis.
In turn, to distinguish ankylosis:
Bone - in which the stiffness in the jointsdue to bony healing mating articular ends. When bone ankylosis bony beams pass through the zone of the former joint space, combining articular ends of bones in one piece; the joint space is usually available.
Fibrous - resulting from fibrous, scar adhesions between the joint surfaces. When fibrous ankylosis joint space normally visible.
Extra-articular - when the cause of immobilityjoint education is extra-articular bone fusion between articulated bones or calcification of soft tissues surrounding the joint with preserved joint space.
Thus, the need for timelytreating contractures obvious. For the treatment of contractures used exercise therapy, physiotherapy, manual therapy, massage, application exercises, and a number of other methods.