Consider regular screening waste of time? To delay the treatment to the doctor, even if that something is wrong? It is time to change the attitude towards their health!
Only MedKrug users to complete a survey in "Our Clinic" until 31 May 20% discount. Save the most valuable!
Content
---
Do you think that regular surveys - a waste of your time?
Whim of the employer? Something
alarming, but you will still tighten on a visit to the doctor? And if it is
this visit could save your life?
Like here:
History №1 «Check for the company"

Woman, 39 years old, no complaints. I came with a friend, decided to test just "for the company", because it was not a gynecologist for 5 years. Result - onkoprotsessa found. Fortunately, at an early stage. A surgical treatment. "Chemistry" and radiation therapy is not needed. Since the intervention has been more than 5 years. Women's health.
History №2 «Run by ... or a heart attack?"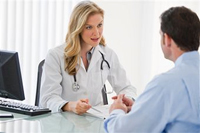 Male, 37 years old, felt good, ledhealthy lifestyle - worked in the morning run. I decided to check heart - his father died of a heart attack at a young age. Normal ECG revealed nothing. We made under load - put on a treadmill. And then revealed serious violations - "jump" pressure and circulatory disorders of the heart muscle. That is, any jogging - a heart attack or stroke. All ended well - Now the patient is undergoing maintenance treatment and regularly observed.
History №3 «Hidden diabetes"

A woman 47 years, several times about 1 timein the year surveyed in «Our clinic" in the basic program. One was found a slight increase in blood sugar. The doctor sounded the alarm and thoroughly examined the patient. hidden sharing violation was found that results from diabetes. Thanks to a diet that was avoided.
And there are enough patients. Imagine if they did not go to the doctor? They do not hurt anything. Perhaps like you.
To ensure the health, make an program
general survey in "Our Clinic" by phone (495) 921-41-10 now.
Who benefits from taking care of your health?
Your boss, a doctor from the clinic,State? None of them. Employer need the result - profit. If an employee has identified the disease, he was "knocked down". And find another healthy - not a problem.
Doctors from the clinic do not pay for the healthy. Inspect them - an additional burden for the same money. Therefore, this "work" turns into a formality. And it does not fulfill its purpose - to identify problems early and prevent complications.
About the state keep silent. Therefore, only you choose - whether to use the chance to extend their lives, not to become a burden to the family, to avoid the incurable diseases. Do this with care of themselves, and not "for show".
5 more reasons to go to a general survey
"Our Clinic" Today:
All - 1 day. We respect your time and your employment, so thenecessary expert advice and research can go on the same day. You do not need to "wade" through the crowd at the office - you go to the doctor by appointment. Queues for analysis either.

Reliable results - the basis of your confidence. To do this, we employ specialists of the highestcategory, PhD, some have experience of more than 20 years. the latest generation of equipment detects even minor deviations from the norm. Everything is carefully checked to avoid errors. So you see the true picture.

Convenience and friendly attitude - We are working to 21.00 on weekdays and on weekends. Therefore, you do not need to interrupt your work day and change their plans. You pass inspection when it is convenient to you. Our experts are correct and ready to help in any situation.

A minimum of discomfort - The doctor explains that what he is doing. Performs inspection and manipulation of carefully and accurately. When you get the survey results - without you "abstruse" medical terms to explain what they mean, and what to do next. To make you feel confident and calm.

Affordable health care- On a comprehensive survey program until May 31, users and subscribers portal MedKrug receive a 20% discount! To help you take care of themselves and their loved ones in time.
In addition, if the results of the overall survey you need treatment, it is also possible to go to the "Our Hospital." It:
A wide range of specialists - If necessary, the council shall be convened. We select the optimal treatment regimen. If we do not have the right specialist, we send our patients to leading capital clinics. You do not stay with their problems alone.

Safe and effective treatment - To reduce the pill burden onbody, actively use physical therapy, plasmapheresis, ultraviolet blood irradiation. In our clinic, an outpatient surgery. You restore your health with comfort.

Destinations in leading clinics in Moscow - If you need a specialized inpatient treatment, we select specialized clinics. So you are back to an active life as soon as possible.
Patients say:
"Here, we see the patient, not the disease
Leads to the survey into "our hospital" theirmy mother was born in 1949 on the program of taking care of my mother. Within a few hours she had received advice of various experts. Did US virtually almost all organs, diagnosed, appointed treatment. Very handy, all in one place. I note responsive attitude of doctors here see the patient, not the disease. Thank you. "Sergey, 02.10.2011
Remember - the sooner you
applying, the more you save. Call (495) 921-41-10 now and sign up for a comprehensive
examination.
Until May 31 users and
Subscribers to the special portal MedKrug
screening program - 20% discount. Print this article and act!