Sinusitis is inflammation of frontal, mixillary and other sinuses that contiguous to a nose. In most cases sinusitis begins with usual snufflewhich was not treated in time. In order to exclude any complications, it's recommended to take antibiotics. Otherwise, acute sinusitis can turn into chronic disease which will require longer and more complex treatment. Among the methods of treatment sinusitis, traditional remedies are one of the most popular methods. However, in acute form of disease traditional remedies can be only used as extra therapy.
Content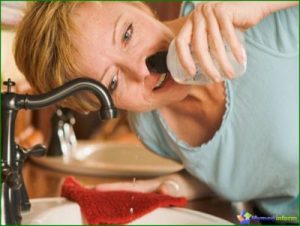 Application features of traditional remedies for sinusitis treatment
Traditional remedies will be most effective ifkeeping to the main principles of treatment the disease.First of all a patient needs a full time of rest during such period. He / she should not go for a walk outside at least the first 3 days. Try to be in a warm place and have a rest as much as it's possible.
It is very important to make accurate diagnosis. Therefore, in the beginning of some characteristic symptoms you should go to the doctor who will take an examination and make a diagnosis. If the diagnosis is confirmed, traditional recipes can be used. Referring to the application, it's also recommended with a specialist. In fact, some home recipes are suitable only for chronic, others - for acute form of disease.
Clean your nose with water, sea salt or herbdecoctions as often as it's possible. Also, it's useful to make inhalation based on natural components. Warming the area of ​​a nose has a wonderful medical effect. In keeping to all recommendations, sinusitis can be rapidly overcome and prevented from further forms of the disease.
The treatment of sinusitis by traditional remedies
Acute sinusitis is often caused by viruses and infections. It can develop during cough. Thus, if sinusitis symptoms occurs. the treatment by traditional methods will help to avoid sinusitis quickly and improve health. However, do not forget that antivirus therapy during acutesinusitis is compulsory.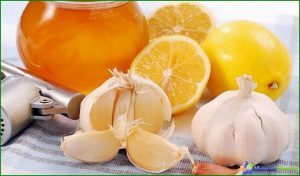 Potato. Potato is a wonderful remedy for inhalation. Boil it without pliling and loaf. You can add soda and several drops of oil. After that, cover your head with a towel and breathe until the mixture cools down


Eggs. You should cook a hard boiled egg, cover it with a towel and warm up your nasal sinus. This remedy is necessary to apply until an egg cools down. Hold the procedure as often as it's possible. The improvement will occur within several procedures.

Black radish. It's a unique remedy which can be used for treatment almost any disease. For sinusitis treatment it's needed to squeeze the juice and mix it in equal proportions with any vegetable oil. After that, use the remedy on the area around a nose, put a package on. In addition it's needed to wrap this area with warm cloths or put warm sandbags

Menthol and garlic. For inhalation you can also use the mixture of menthol and garlic. Peel and cut a garlic, add up essential oil (attar) and pour a glass of water into the mixture. Cover your head with a towel and breathe over the mixture until the vapor occurs. You can add up 1-2 glasses of boiling water and continue inhalation. The improvement can be within 2-3 days of regular inhalations.

Flour and honey. Mix up the rye flour and honey in equal proportion. Make out a dough. The ready cake put to the nose. Wrap with poliethanol and warm towel. Time: 20 minutes. Patient needs to be in the bed. Make the procedure 2-3 times a day until full healthiness.
The treatment of chronic sinusitis by traditional methods
Sinusitis is a disease of inflammation whichincludes nasal mucus. If the disease continues more than 3 weeks then it can be called chronic. In this case, it's difficult to treat and can continue for months and years. The treatment with traditional remedies helps to improve health and take off inflammation
Onion. It's an effective method for washing up sinuses. In order to cook an infusion, cut up 2 bows and add up 1 tablespoon of honey and 1 lass of water. The ready infusion needs to be filtered and then can be used for cleaning nose. Every day you should cook a fresh infusion which is of high efficiency. The treatment course - 10 days. If the condition does not improve, make an appointment with a doctor.


Thistle juice. Drip your nose with this fresh. Every nostril with 5-7 drops.

Chamomile and calendula. It's effective to use inhalation based on medical herbs. Mix up 1 tablespoon of chamomile and calendula and pure 1 glass of boiled water. Boil it for 5 min. After that breathe over a warm infusion until it cools down. You can use the indusion during the whole day, periodically warm it up .The treatment course- 10 days.

Plantain and helichrysum. For 1 glass of boiled water it's needed 10 g of plantain leaves and one flower of helichrysum. The mixture should be leaved for 40 minuted. After that, warm it up and hold the inhalation in a usual way.
The treatment of sinusitis via traditional methods
Sinusitis is a diseases when sinuses are inflamed. The disease can be as acute as chronic. Tra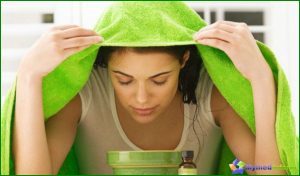 ditional methods lead to quick overcoming, are not dangerous and available.
Propolis. In order to hold an inhalation at home, you should use alcohol tincture of propolis. It's enough to add up 20 ml of infusion for 2 glasses of boiled water and breathe over it for 15 minutes.
Rosehip oil. It's useful to drip with rosehip oil. As a rule, the improvement will get within 5 days of regular procedures.

Natural drops for nose. One more unique remedy during the sinusitis is the drops based on celandine juice, honey and aloe juice. Mix up all the components in equal proportion. Ready drops should be used 5 times a day. You should dribble for 3 drops.
There are a lot of ways of treating sinusitiswith the help of traditional remedies. However, before application of any of them you should consult with a doctor. And do not forget that it's much easier prevent disease rather than cure it. Thus, during viral infections take immunmodeling medicines, treat viral infections in time and visit a dentist regularly.