What is anaphylactic shock? How to provide first aid to a person with anaphylactic shock? The answers to these questions can be found in the article.
Content
First aid for anaphylactic shock
---
What is anaphylactic shock
Anaphylactic shock - it is primarily SHOCK - sharply growing
the delivery status of non-compliance and oxygen consumption,
characterized by acute circulatory failure (acute
circulatory insufficiency) until collaptoid state,
arising as a result of anaphylaxis (excessive reaction of the body
man on repeated exposure to allergen). Anaphylactic reactions
(Anaphylactic shock) - a life-threatening emergency conditions quickly
developing pronounced vascular collapse.
Anaphylactic shock can be accompanied by concomitant allergic reactions such as:
discoloration of the skin (redness - atopic dermatitis);
the appearance of lesions (focal or diffuse nature - hives, generalized
hives);
fast
development of soft tissue edema (trunk, extremities, usually the face, neck and
which is especially dangerous, mucous hypopharynx with a possible development
asphyxia, etc.), similar to how this occurs with Quincke's edema (angioedema);
phenomena
bronchospasm (feeling short of breath, tightness in the chest,
labored breath and exhale and subsequently, with the appearance of the characteristic
wheezing, shortness of breath) - bronchial asthma;
Like any acute circulatory failure, and later, and
breathing is a condition accompanied by manifestations
central nervous system - the original feeling of fear,
anxiety, even excited, and then dizziness, progressive
oppression of consciousness up to coma.
Depending on the intensity factor and allergic effects
features of the body's reaction - anaphylactic shock can develop
in the time interval from a few minutes (10-15 min) to several
hours.
First aid for anaphylactic shock
First Aid (doctor) should necessarily cause immediate
at any initial acute manifestations of allergic reaction has
growing character. Or even at the minimum of allergic (above
described) forms, but accompanied by increased heart rate, decreased
(Even moderate - 10-20 mm Hg..) Of blood pressure, the appearance of
shortness of breath, bronchospasm, edema
mucous hypopharynx (cough, dysphonia - hoarseness, feeling
suffocation). In general, the rule is that any patient with acute allergic
the reaction should be examined by a doctor immediately. But, when a
features described above in addition to a severe allergic reaction,
the ambulance dispatcher must be additionally and specially notified to make a decision on emergency medical care
specialized team ambulance.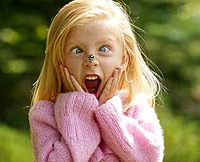 Remember that anaphylactic reaction is easier to prevent than to treat. In no event should not wait for a comprehensive picture of anaphylactic shock to
call the ambulance. This is due to its life-threatening nature of the flow. Anaphylactic shock - requires immediate
hospitalization in connection with the necessity of providing them with competent medical care in the intensive care unit.
Given the timing of the development of the state of anaphylactic shock
emergency care may be necessary in these patients at the stage
the arrival of "first" and during transport
patients
that requires a suitably qualified team of staff
ambulance (the ability to carry out resuscitation and
intense therapeutic interventions) and equipment of ambulance
aid equipment (heart monitor with pulse oximeter, respiratory
machine, set for intubation and tracheo (conic) tomy), oxygen
medicines and solutions.
conducted
events (anti-inflammatory,
decongestants, respiratory therapy)
You should not delay or prevent the transportation of the patient in
hospital. Except for short periods of episodes required for
resuscitation (chest compressions and intubation), if
they can not, for any reason, be performed during the movement.
This is due to the fact that all these measures do not guarantee a quick
cupping manifestations of anaphylactic shock, and do not replace those
the possibility of skilled care, which are available in
hospital.

Prior to the arrival of "first" brigade, if possible, should:
isolate
patient of allergen, if known (ventilate the room,
make it wet cleaning, in the reaction to an insect sting, or
intramuscular or subcutaneous injection - to treat the wound with detergent and
antiseptic may tourniquet above the bite, noting the time
compression of blood flow and chill on the bite (injection);
put the patient horizontally, with a decrease in blood pressure with a slightly raised legs (no more than 15 - 20 degrees);
observe the patient, if possible by measuring blood pressure, pulse rate, respiratory rate and rhythm;
give
it is available in stock or usually takes them desensitizing
(Antihistamine) means (tavegil, suprastin, Claritin, sempreks,
allertek etc.).
It should be remembered,
that information of value to the emergency doctor,
you can imagine the patient, his relatives or close people,
and those who were close to the patient during development
anaphylactic shock, is:
exact time
the onset of an allergic reaction and the time that has elapsed since
development of those or other manifestations from the patient's body
(the appearance of shortness of breath, changes in voice, increased heart rate, fluctuations in blood pressure, etc.);
personal history of allergic reactions previously seen in patients and what was the cause of their development;
a detailed list of what is allowed and the patient made before arrival
ambulance and when.
The cause of anaphylaxis may include: administering medicines
(Antibiotics, etc.); insect bites (often biting); foodstuffs;
pollen; dust; chemical substances; blood products.