Laparoscopy is a modernmethod, which is widely used in surgery and gynecology. Effectively used in laparoscopy gynecological treatment of many diseases, including infertility.
Content
The concept of laparoscopy
Laparoscopy - a modern method of surgery,which without cutting, by means of special optical instruments, carried out inspection of the abdominal cavity and pelvis. Laparoscopy also applies to the modern methods of diagnosis of infertility. It's hard to name any of pelvic pathology, diagnosis and treatment, which can not be done by laparoscopy.
Laparoscopy in Gynecology - new methodthe effective treatment of various gynecological diseases, which allows you to reduce the time of recovery of the patient and not leave cosmetic defects in the body after surgery. The current state of technology allows us to apply laparoscopy for diagnostic purposes as well as for surgical intervention. Operative laparoscopy makes it possible to treat infertility, endometriosis, ovarian cysts, uterine fibroids, ectopic pregnancy, and others. The use of laparoscopy in gynecology opened a new effective treatment for infertility.
options for laparoscopy
There are three types of laparoscopy. Diagnostic laparoscopy is visual inspection bodies using the optional keypad. This type of laparoscopy is performed to confirm or refute the diagnosis or check the general condition and functioning of, for example, tubal patency.
Operative laparoscopy covers almost the entire volume of gynecological surgery and is usually used to eliminate detected abnormalities.
Control laparoscopy is performed to monitor the effectiveness of past surgeries.
Indications for laparoscopic surgery in gynecology
Today laparoscopic surgery is widely used in many areas of medicine, including obstetrics. The main indications for laparoscopy is:
infertility
cysts and ovarian tumors
endometriosis
Polycystic ovary syndrome (PCOS)
hysteromyoma
adenomyosis
endometrial hyperplasia
terilizatsiya
Features laparoscopy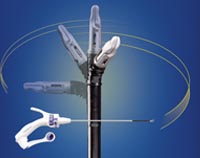 3 is small for laparoscopypuncture (5 and 10 mm) in the anterior abdominal wall. These pinholes, unlike traditional cut, do not injure the muscle tissue - the patient is almost no pain after surgery and usually return to normal within a week. Sam puncture the abdominal wall is held trocar - a special metal tube. As it introduced a small amount of carbon dioxide to create volume in the abdominal cavity, then the trocar is introduced telescope tube that connects to a special small camera and a light source that allows you to view the image organs during surgery on the screen at a higher magnification. After remaining two trocar into the abdominal cavity micromanipulators administered directly to laparoscopy.
The advantage of a laparoscopy is lowtraumatic conducted opreativnogo intervention and, of course, short timing hospital stay (2-3 days), speed up recovery after surgery. Conducting laparoscopy under high magnification allows a more precise and less traumatic for the patient to carry out any surgical intervention. During the healing of injuries after laparoscopic no pain - no need to use potent painkillers drugs. By the significant advantages also include the lack of scars, which are observed in a cut operations. In addition, at a laparoscopy disease diagnostic accuracy approaching 100%.