Blood on ELISA Torch during pregnancy - decoding and interpretation of analysis results.
Content
---
Blood on ELISA with Torch infection in pregnant women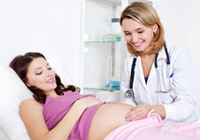 Analysis on Torch infection is among the mandatory studies when planning pregnancy and during it. With Torch infection, the underdeveloped pregnancy, spontaneous abortions in the early periods, the intrauterine death of the fetus in the later timing.
For diagnosis during pregnancy, the ELISA method is most often used (enzyme immunoassay analysis).
Decoding IFA on Torch infection during pregnancy
The body in response to infection produces immunoglobulins of classes M and G (IgM, IgG). IGM appear immediately after infection. Igg begin to synthesize after weeks after the start of the disease. The method allows you to determine the titer (number) of antibodies in blood samples. The results of the tests are measured in me / ml or as a ratio of degrees of serum dilution, under which antibodies can be determined (as a ratio of 1: 5, 1:50, 1: 100 and t.D.).
Special danger in pregnancy is precisely acute infection. IGM definition sometimes allows you to identify the rate of infection. More accurately set the moment of infection, if you define an iGG Avidity.
Avidity — The stability indicator of the antigen antigen complex is measured in%. At the beginning of the IGG immunoglobulin disease have low avid. Indicators below 40% indicate a recent infection, which represents a greater danger to mother and child. Indicators from 40 to 60% do not allow to reliably determine the rate of infection. Avidity above 60% allows you to establish chronic infection carriage, which significantly improves the forecast. The emergence of low-avid antibodies during pregnancy can be a sign of the reactivation of chronic infection requiring treatment.