What if a woman dreams of a child,patients with hypertension? Undoubtedly, hypertension and pregnancy - is not the best combination. But still, try to understand it, because forewarned - means armed.
Content
---
Woman-hypertensive: pregnancy possible?
In every person's life there are moments whichYou can prepare and to which you can remember all my life. This milestone dividing our way of life on the "time before" and "after." There is no doubt that almost every woman becomes a milestone birth of the desired child. I want him to be born healthy and strong, has grown to happy, to live a long time ... If a woman is healthy, beautiful dream to realize it is not obstructed. But what if a woman dreams of a child with hypertension? Undoubtedly, hypertension and pregnancy - is not the best combination. Still, try to understand it, because forewarned - means armed.
Just say the main thing - and the possibility of carryingbirth of a healthy baby to a woman suffering from hypertension, to the greatest extent depends on the stage of hypertension. In the third (severe) stage of hypertension pregnancy is absolutely contraindicated. Note again: not delivery, namely pregnancy, because abortion is the third stage of hypertension too dangerous for a woman's life. In the second (middle) phase of hypertension, pregnancy and childbirth are possible, but only if the woman before pregnancy was not hypertensive crises and no complications in the heart and kidneys. The first (mild) hypertension stage is not an obstacle to pregnancy and childbirth. The question of the continuation of the pregnancy hypertension should be solved in the first visit to the cardiologist after pregnancy.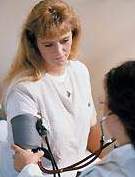 Of course, any stage of hypertensionIt may have an impact on the course of pregnancy. Therefore, pregnant women should immediately seek not only to the gynecologist, but also to a cardiologist and regularly visit it. Cardiological examination pregnant with hypertension includes regular measurement of blood pressure, ECG conduct studies every two weeks to do the analysis of urine protein determination.
In addition to the expectant mother survey, of course,conducted regular examinations of the fetus, which includes serial ultrasound examination of the fetal growth and prenatal assessment of his condition. The cardiologist prescribed with pregnant women suffering from hypertension, the main points related to the change in her lifestyle, diet, physical activity, etc. In addition, the doctor will determine which medicines from those patients with hypertension taking before pregnancy, it is necessary at this new stage of her life, and which must be replaced to avoid the harmful effects on the fetus. It is also necessary to consider that during the early stages of pregnancy in patients with hypertension, blood pressure is reduced by itself. Although sometimes vice versa: pregnancy is a stressful situation for a woman, especially not given birth before, can cause an increase in pressure. Sometimes the diagnosis of hypertension for the first time put the woman is during pregnancy.
In hypertensive disease in 60% of casespregnancy complicated by late toxicosis with severe leakage. A pregnant woman suffering from a headache, it may appear blurred vision. However, the most severe complications of hypertension during pregnancy are a brain hemorrhage and retinal detachment. However, prevent the development of complications of hypertension during pregnancy is possible with constant and careful observation of the cardiologist and an obstetrician-gynecologist, a leading pregnancy. When high blood pressure, hypertensive crisis occurs, symptoms of late toxicosis, persistent deterioration of the health of pregnant women with hypertension should be immediately directed to the treatment.
Even with a favorable course of pregnancy,patients with hypertension must be delivered to the maternity ward for 2-3 weeks before the expected date of birth. Genera with hypertension are often complicated by both the mother and to the child. In the first case, the delivery is carried antihypertensive therapy for the woman, and the second continuous fetal monitoring. In some cases, a cesarean section is shown, sometimes necessary to cause premature birth.
That depends on the expectant mother
However, as already mentioned, the mildest formHypertension is not a barrier to pregnancy, and the strength of the woman do a lot for your health and the health of the future baby. General recommendations are the same: the complete or almost complete elimination of salt from the diet, full and light meals with natural products, regular walking, moderate physical activity, proper rest and sleep, the favorable situation at home. I must say that among the listed no item that does not included in the list of tips for perfectly healthy pregnant women. And one more thing, not least of all. A pregnant woman should always remember that she can give birth to a healthy baby. And be sure that she will do it, no matter what. There were times when it was mom's confidence kept the kid and life and health.

But we should not forget that life after birththe kid is just beginning. The mother, who suffers from hypertension, family history conveys it to your child. So from an early age is necessary to take preventive measures to avoid him in the future development of hypertension.