It is no secret that a large number of parents havedifficulty in obtaining appropriate education for their children suffering from serious illnesses. This is despite the fact that the majority of parents and teachers want to do everything as best as possible for children.
Content
Training

It is no secret that many parents have difficultygive proper education to their children suffering from serious illnesses. This is despite the fact that the majority of parents and teachers want to do everything as best as possible for children. What is stopping you? Sometimes it is the rules that operate public educational institutions. Sometimes this lack of knowledge about Hunter syndrome (and other diseases, leading to disability of children) by parents or teachers. Sometimes this distrust teachers and parents of children with severe disabilities.
Early stimulating learning

Given the cumulative nature of the disease,it is important to start practicing as soon as possible with your child. Infants and very young children suffering from mucopolysaccharidosis, are better able to master a variety of skills than older children, with the help of incentive programs, mobilizing the most intelligent child opportunities. This is particularly important in the case of diseases for which there are periods of learning without visible progress. We must begin to teach a child is the enabling program immediately after diagnosis.
Planning and control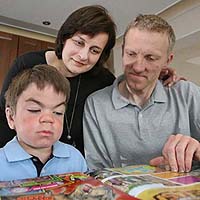 In severe forms of mucopolysaccharidosis duefairly rapid regression in skills and peculiarities of behavior must be carried out continuously monitor changes in the child's behavior in schools. It should actively encourage the child's desire to learn, his participation in public life and the preservation of his previously acquired skills.
Study space and teaching methods need toconstantly adapt to the child's difficulties, such as restrictions on mobility, complicated the process of perception and cognition, as well as defining behavior problems.
Teachers often need extrasupport to accept restrictions on the child's skills, the progression of his disease, so as not to require a child what to do, he just can not. The process of planning and development of the educational program can be difficult for the institution personnel dealing with children suffering from progressive disease. After all, the traditional education system focuses on improving skills and much less attention is paid to the support already acquired skills.
health Concerns

When planning a separate training programattention should be paid to the problems of mobility, loss of hearing and vision. The institution must have teachers who specialize in working with children with loss of vision and hearing. Problems of limited mobility and other physical limitations due to illness must be resolved by means of consultations with doctors. Distribution of children with mukopolimaharidozom by classes or groups planning their participation in various projects (for example, in art projects) should be carried out in such a way that sick children had the opportunity to possibly as much as possible to communicate with their healthy peers.
behavior problems

Behavior problems in children with mucopolysaccharidosismore often interpreted personnel of educational institutions as a misdemeanor rather than a manifestation of the disease. Most behavior problems in children with a severe form of mucopolysaccharidosis caused by neurological manifestations of the disease, lack of understanding, communication difficulties or sensory limitations.
To resolve these problems staffthe educational institution must apply the intervention approach rather than disciplinary. Calling a child "on the carpet" to the director, the director of studies, etc. - A very inefficient way of solving the problems caused by the manifestation of the disease. Difficulties of behavior should be seen as a complication of a medical nature and not as a misdemeanor. In solving some problems of behavior change can greatly help educational space and teaching methods. Teachers may need advice to overcome hyperactivity, restlessness and his napugannosti. Teachers must master the principles of management and maintenance of children's behavior. To maintain appropriate behavior should be emphasis on the changing environment in the room to practice (or classroom) and consolidation of behavioral skills.
Socialization

School attendance and socialization of children haveencouraged and stimulated through the implementation of certain social skills. It must be supported by the child's independence. Teachers can do a lot in order to approve the behavior of the child through educational activities such as joint training and encourage support for all children in the classroom. The youth need additional education and support, especially for adolescents with moderate form of mucopolysaccharidosis.
Career and further education

Teachers need to predict the processlearning by understanding the child's limitations. Children with a mild form of mucopolysaccharidosis have a normal or slightly delayed intellectual development. Teachers do not have to assess the degree of intellectual development of the child in its appearance as people with mucopolysaccharidosis even safe intelligence symptoms of the disease can be very strong. Accordingly, the high expectations of the child's intellectual development will contribute to its realistic self-assessment and magnify his achievements. Academic and vocational training should contribute to human independence, career goals should be realistically set. Planning for the transition from school to higher education (secondary) school or work should be carried out as well as for healthy people.