Danish researchers conducted a population-based study found an association between hormonal contraceptives and an increased risk of glioma among girls.
Content
---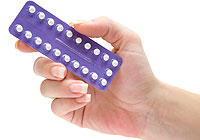 According to a report published in the British Journal
clinical pharmacology, long-term use of hormonal contraceptives
increases the risk of brain gliomas almost doubled.
It is well known that the use of hormonal
contraceptives may contribute to the development of some cancers,
but the relationship between them and taking the development of CNS tumors has been studied enough.
During the study, David Geist (doctor of medicine, doctor of the hospital
Odense University and the University of Southern Denmark) and colleagues turned to
medical records, patients in Danish women aged 15 to 49 years who have a
Between 2000 and 2009, he was diagnosed with glioma. In addition, they were studied
Archives of medical prescriptions for hormonal treatments drawn between
1995 to 2009.
317 women participated in the study
diagnosed with glioma and 2 126 women in the control group - about
the same age, with an equal amount of parity and the same level of
education.
It was found that women who took hormonal
contraceptive preparations at the time of the study or just before it, the risk of
of glioma is higher than in women who had taken them in the past. The group increased
risk were classified as women taking progestin-only preparations (mini-pill)
However, women taking estrogen-progestin contraceptives have also been attributed
to the risk of developing brain gliomas.
Dr. Brittany Charlton (PhD, research fellow with
degree in Children's Hospital Boston and Harvard Medical School)
is confident that a proper evaluation of all the risks associated with the use of
hormonal contraceptives, should collect detailed information about patients
and to observe them for a long period, because over time the medical
drugs are changing. So, change the content in the current preparations
estrogen, progesterone they appeared changed dosage regimen steel
used hormonal intrauterine contraceptives.
Dr. Egan Keytelin of Cancer Center in Tampa (state
Florida) considers that an advantage research can be attributed much of the coverage
population and obtain information on the use of oral contraceptives
medical records, and not from the words of the patients. On the downside - the fact that it
attended by relatively few women diagnosed with glioma; that the authors
the study did not have access to such important information as the body mass index
body, so findings require further confirmation.
The most well-known complications when taking hormonal
contraceptives combined action - venous and arterial thrombosis and
certain types of cancer, including breast cancer and cervical cancer. However, when
This use of these drugs reduces the risk of ovarian cancer,
endometrial cancer and colon cancer. Furthermore, the HEC is used for
treatment of heavy menstrual bleeding, dysmenorrhea, hirsutism and
acne vulgaris. In general, the use of hormonal contraceptives increases
the average duration of life. Study leader Dr David Geist
argues that the benefits of the use of hormonal contraceptives significantly
outweighs the identified risks.