Tick-borne encephalitis (spring-summer encephalitis) -natural focal acute infectious disease characterized by fever, intoxication and defeat of the nervous system, leading to the development of paralysis.
Content
The reason for tick-borne encephalitis
The causative agent - a virus that can survive in
the grip at low temperatures and is sensitive to high temperatures.
Boiling kills 2 minutes. In the milk and milk products
saved up to 2 months.
The source of the virus are mites, in which it exists indefinitely, handed down to posterity.
Human infection with the tick suction proiskhoit having a virus
tick-borne encephalitis, or eating raw milk and goats
cows that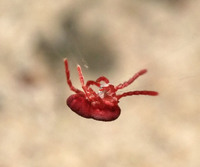 kzhe infected ticks.
Typical spring-summer season, connected with the period of greatest activity of ticks.
Ticks are common in the forest and forest-steppe part of the Russian Far
East to the western border. In recent years there has been widespread
increased incidence of tick-borne encephalitis. 70% of cases - city
people using recreational forests near cities.
The process of developing the disease
When the tick bites or through the gastro-intestinal tract of tick-borne virus
encephalitis virus enters the bloodstream and enters the cells of the central nervous
system, causing severe changes in them. The patient to others is not dangerous.
An illness leaves persistent immunity to the disease,
however, the virus persists in some people, causing chronic
forms of the disease.
evidence
disease
incubatory
period lasts from 1 to 30 days. The disease begins suddenly with
chills, rapid increase in body temperature to 38-39 ° C, strong
headache, body aches, weakness, weakness, sleep disturbances,
nausea, sometimes vomiting. Face, eyes red patient. With 3-5 days of illness
develop nerve damage.
Urgent care
The patient should be immediately placed in an infectious diseases hospital for intensive treatment.
Been ill with tick-borne encephalitis are under medical supervision
depending on the residual effects of previous disease.
Preventing disease
To prevent tick attacks recommended the use of protective clothing and
repellents in the period of greatest activity of ticks.
The most effective protection against tick-borne encephalitis is
vaccination. vaccination course consists of three vaccinations. The first two vaccinations
should be carried out during the cold season (from November) and end
not later than 14 days before the start of activity of ticks.
When
sucking mite for his research on the infection to be
refer to the infectious diseases hospital. In case of positive result
study suffered injected immunoglobulin against tick
encephalitis. Its administration is most effective within 1 day after
tick bites in 4 days it is not carried out.