Art therapy - the word is now at the hearing, however,even those who enjoy an active, not always able to explain what it is, in fact, is. Some quite seriously believe that it is molded from clay in a mental hospital. Others believe that it is some kind of an unconventional method of treatment.
Content
What is art therapy?
it
treatment by means of art. A more precise
It will say that it's not so much treatment as development
creativity and personality. Developing and harmonizing yourself, you give yourself in
arms to deal with any life problems.
Art therapy as a treatment method has been involved in
forties of the last century. But instinctively used it to
antiquity. Splashing his emotions on paper, canvas, creating
music and sculpture, mankind does not always create masterpieces. However,
process tvorches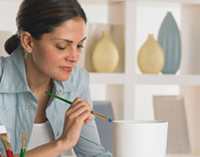 Twas always remove accumulated mental
voltage, came calm and concentration. We can say,
that art therapy - is a natural and gentle healing of the soul with the help of
creativity.
What is the mechanism of action of this type of treatment?
Folding origami, painting or composing a melody, you are
really you describe your problem or mood. Thus, you
You get a coded message from ourselves, from the depths of his
the subconscious. Appointment of a specialist in art therapy - to help you decipher the message and use the tips effectively,
it contains, for the harmonization of their lives and health.
For example, there is an exercise: using
twine you do you try a "living space". Already at this
stage there food for thought: how much 'air' you yourself
allot? Do you closely in this framework? A may be the opposite: they
so wide that you already uncomfortable in them?
But that's not all: to visit you start to go
neighbors. While you're driving with them a pleasant conversation, everything is fine. But your
neighbors, apparently, felt right at home, in your inner world,
They invite their friends. In your "living space" becomes
closely.
What will you do? Spits on everything, leaving his
"Place in the sun" uninvited guests, go look for a new home?
Is it too low you have self-esteem? Do you stand on the position
victim in interpersonal relationships? And, maybe, you begin to defend
a couple of square meters of its aggression, which will surprise you the most?
Or perhaps you try to negotiate, establish some
regulations? Agree, there is something to think about and what to think.
This is just one of the exercise of one of the
areas of art therapy - igroterapiya. Directions of weight, they
match types of arts, and a variety of techniques almost
not limited. That is not a complete list of our "healers of the soul":
Visual arts (painting, sculpture, etc.);

music therapy;

skazkoterapiya;

dramoterapiya;

phototherapy;

tantseterapiya ...
The list is almost endless, and in fact almost
every day there are more and more. There are even
exotic techniques such as sand therapy and Kinder Surprise therapy.
Strictly speaking, it does not matter with the help of some techniques you will be able to make contact with his soul. Any and what can Do
You reach some peaks in the chosen form of art. The main thing -
it is an opportunity to express themselves, to know themselves, to find the mental strength after experienced stress and life crises. No wonder art therapists work in departments of cardiology, oncology and gerontology.
This type of therapy is soft, sparing, humane and practically has no contraindications.