What type of diet should be followed for kidney disease? He tells urologist 8th city hospital in Voronezh Podguzov Alexander.
Content
The most significant diet in renalfailure. In medical reference books for renal diet is referred to as "therapeutic table №7». A strict diet is also assigned to patients with kidney diseases such as glomerulonephritis and nephrotic syndrome.
In other ailments renal diet is usually not very different from the usual. The main limitations relate to sharp dishes, spices and alcohol.
Subject to "renal" diet is important to limitamount of protein in the diet. Formed from protein toxins which have to neutralize the kidneys. Therefore, a decrease in protein diet leads to an improvement in health. The degree of restriction of protein foods depends on the stage of the disease and treatment. The "renal" diet allowed such protein sources like eggs, lean meats, poultry, fish. But the amount of these foods in the daily diet should be strictly regulate the attending physician. Meat and fish are best to cook boiled and then baked or fried.
It is very important in renal failure highcalorie diet, not less than 3500 kcal per day. With a lack of calories your metabolism changes. Begin to "burn" is not only their own fats and proteins. Therefore, weight loss increases the amount of toxins, but the meaning is completely lost low-protein diet. The food is desirable to take 4-6 times a day.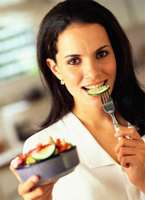 Another important factor in renal dietIt is to limit salt. Thus, it is recommended not more than 2.3 grams of salt per day in renal failure. Patients with high blood pressure need to cook food without any salt.
The content of dietary minerals- Phosphorus, potassium and others - chosen individually. Some patients are not recommended to misuse the products with excess phosphorus, and potassium. phosphorus sources are cheese, cheese, liver, legumes, nuts. Potassium rich dried fruit, bananas.
Well suited for patients with diseased kidneys alldishes based on cereals, pasta, potatoes and other vegetables. It is safe to eat fruit and berries: they contain vitamins and very valuable to the kidneys. When kidney ailments can be virtually unlimited use any unsalted vegetarian soups.
Kefir, yogurt, sour cream, milk, cottage cheese should be consumed in amounts recommended by the attending physician. Allowed butter and vegetable oil.
Of the spices you can only eat bay leaves, cinnamon and a little fried onion. Pepper, mustard and other spices contain essential oils that irritate the kidneys.
From drinks in the diet allowed №7 compotes, jellies, juices, broth hips, weak tea with a lemon, weak coffee. Undesirable cocoa, sodium-mineral water.
You can have almost everything sweets: jam, marmalade, marshmallow, sweet dish made of dough. It is necessary to refuse only on chocolate.
Special mention should be on the bread. Patients with renal failure can not eat ordinary bread, because it contains a lot of salt. They baked a special salt-free bread, pancakes and pancakes without salt.
Are harmful to patients of kidney beans, onions, radishes,garlic, sorrel, mushrooms. It is necessary to completely eliminate meat, fish and mushroom broth. It is desirable to limit fatty meats, fish and poultry. Because of the high salt content is strictly prohibited smoked, canned, salted fish, sausages, wieners and sausages, cheeses of all kinds. If kidney disease is also not recommended for salted, marinated and pickled vegetables.
Sometimes different fasting days are used by a doctor in the diet №7.
Fruit or berry day is thatill give 5 times a day for 300 g ripe raw fruits or berries: apples, pears, grapes, strawberries. "Watermelon day" is especially recommended in the appropriate season. the patient can be a fruit and berries to add sugar if desired.
Vegetable day consists of 1.5 kg of various vegetables. Of these, prepare salads and allowed every 3 hours for 300 At salads add a little sour cream or vegetable oil. Salads do not salt.
From vegetable days especially useful for kidney cucumber fasting day. 5 times a day should eat 300-400 grams of fresh cucumbers. For cucumbers can add 100-200 grams of sour cream.
When kidney ailments and juice is recommended daily. 4 times a day drink 150-200 ml of vegetable or fruit juice unsweetened, diluted with water and broth hips. All day - 600 ml of juice, 200 ml of water, 600 ml of broth hips. be sure to consult with your doctor before carrying out the juice of the day: it is contraindicated in some conditions.
During the unloading of the day the body of oatsaturated with B vitamins, and the intestines and kidneys clean. During the day you need to eat 700-750 grams of oatmeal on the water from 200 g of oat groats. The daily dose is divided into five parts. In oatmeal a day should also drink 1-2 cups of broth hips.
Recipes
Buckwheat pancakes
Ingredients for 4 servings
Buckwheat Flour - 1.5 cups
Wheat flour - 1 cup
cream
Preparation:
In a glass of warm milk diluted with buckwheat flourand yeast. After 1-1.5 hours the fermentation add egg yolks, mashed with butter and sour cream, wheat flour, the rest of the milk, salt, sugar. All carefully Stir spatula until the dough will not keep up with it, put in a warm place for 1.5-2 hours. Separately, whip the whites and cream and blend them. Put this mixture into the dough, gently stir, let stand for 10-15 minutes and bake pancakes.

Potato "pockets" stuffed with vegetables

Ingredients for 10 servings
800 g boiled potatoes
1/2 cup flour
1/2 cup semolina
2 eggs
1 small head of cabbage
2 boiled carrots
2 onions
100 g butter
1 tbsp. fat spoon
salt -. 1 teaspoon of the whole volume of food.
Preparation:
Boiled carrots cut into cubes. Onions finely chopped and lightly fried. Cabbage clean, chop, dipped in boiling unsalted water, boil for 5 - 7 minutes, discard in a colander, cool, mix with the carrots and onions, a little salt. Hot boiled potato mash with tolkushkoy, add 1 egg, salt, flour and semolina, mix thoroughly. Potato roll the dough, cut into squares, each put stuffing cabbage on top - a piece of butter. The edges of the squares to combine and compress. "Pockets" to lay out on a baking sheet, greased. Lubricate the egg and pour 50 g of melted butter. Bake in the oven until cooked.

carrot souffle

Ingredients for 4 servings
200 g of carrots
100ml milk
20 g semolina
1 raw egg
20g sugar
20 g butter
50 g low-fat fruit yogurt
bread crumbs for dusting form.
Preparation:
Carrots are cleaned, cut into pieces, put inpan with non-stick coating, add to 50 ml of milk and 10 g of butter and cook over low heat until tender (10-12 minutes), close the lid tightly. Remove from heat, cool, mince, combine with remaining milk, semolina, sugar, egg, add 50 g of melted butter and all thoroughly mixed. The resulting mass is put into a mold, greased and sprinkled with breadcrumbs, smooth and cook in a water bath until tender (10-15 minutes), cool, serve, watering yogurt.

Zucchini soup with cabbage and rice

Ingredients for 4 servings
500 g zucchini
2 carrots
300 g white cabbage
1.5 liters of water
3 tbsp. rice spoon
2 tbsp. tablespoons butter
1 onion
1 tbsp. tablespoons vegetable oil
1/2 h. Spoons of salt
1 bay leaf.
Preparation:
Zucchini and carrots Wash, peel. Courgettes cut into thick strips, carrot - thin, shredded cabbage. Onion finely chopped and fry in vegetable oil until light yellow in color. Bay leaves pour boiling water, bring water to a boil. The washed rice to fill in boiling water. After 5-6 minutes add the carrots and cabbage, cook on low heat. 5 minutes before end of cooking add the chopped zucchini, fried onions and salt.