Symptoms of varicose veins and chronic venous insufficiency may occur at any time of year, but it is the largest number of complications is in the summer.
Content
---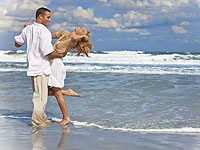 In order to avoid possible complications arising in the summer, while on vacation, you can use a few tips.
First, doctors do not recommend to be underdirect sunlight, especially in the increased solar activity hours from 11 to 16 hours, so it is best to sunbathe in the morning or in the evening, and be under the scattered rays in the shade of an awning or trees. Use of creams and lotions protected units 30 can prevent the reduction of tissue elasticity and venous walls, which can be caused by exposure to ultraviolet rays.
Secondly, in the summer it is recommended to drink moreliquid, it is desirable to use non-carbonated mineral water, juices. From alcoholic drinks and strong coffee is better to refuse, because they increase the risk of blood clots, and may delay the fluid in the body.
If you go to the beach, it is desirable not onlylie down and sunbathe, but also to move, swim, walk on the sand or gravel. These exercises help to improve blood circulation and remove blood stasis.
The positive effect will stop processing,drumsticks and thighs spray or cream for venous leg. It is recommended to choose products based on natural ingredients, they do not have negative side effects and ensure high efficiency. Among these products is released NORMAVEN series, developed based on plant extracts, essential oils and vitamins. Venous spray and tonic and cream NORMAVEN strengthens walls of blood vessels, relieve fatigue, have a cooling effect, reduce swelling and increase resistance to adverse influences.
There are also several recommendationswith respect to clothing. Preferably to be wearing shoes with heels no more than 5 cm, in addition, do not wear narrow shoes, as well as contracting legs clothes, as it can impede the outflow of venous blood from the lower extremities.