Examination and treatment of patients suffering fromantiphospholipid syndrome is necessary before pregnancy. During pregnancy, the diagnosis is carried out, which allows to evaluate the functional state of the fetus and to identify the signs of hypoxia.
Content
Pregnancy in antiphospholipid syndrome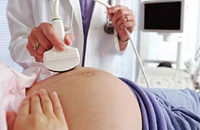 Survey and drug preparationpatients with the antiphospholipid syndrome should begin before pregnancy. At the same time carefully examines the patient's complaints in order to identify possible signs of disease. Carry out laboratory tests for the detection of antibodies to cardiolipin and lupus anticoagulant. In their study of the identification is repeated in 6-8 weeks. At the same time conducting a survey to identify comorbidities, and if necessary - their treatment. If you have repeated positive tests for the presence of antibodies to cardiolipin and lupus anticoagulant antiphospholipid syndrome treatment begin with individual selection of drugs.
When pregnancy occurs, the early timing of its conduct control over the nature of the disease with the use of appropriate laboratory tests and carry out the necessary treatment.
With the help of ultrasound monitor growth ratesfruit at intervals of 3-4 weeks, and evaluate the functional state of fetoplacental system. Special diagnostic value of Doppler ultrasound is being done with 20 weeks with an interval of 3-4 weeks before birth. Doppler allows you to diagnose decrease in fetoplacental and matochnoplatsentarnogo blood flow and allows to evaluate the effectiveness of the therapy.
CTG data after 32 weekspregnancy, and allow us to estimate the functional state of the fetus. The delivery is carried out a thorough kardiomonitorny control due to the presence of chronic fetal hypoxia, as well as increased risk of abruption placentae, acute hypoxia of the fetus on background of chronic oxygen starvation. It is advisable to determine the condition of the blood coagulation system just before birth and during labor.
Of particular importance is monitoring the condition of women in childbirth, as it was in the postpartum period increases the risk of thromboembolic complications.
Steroid therapy during pregnancy
Steroid therapy (applicationglucocorticosteroids - prednisone) lasts for 2 weeks, with gradual withdrawal. It is advisable to carry out the control system of a hemostasis at 3rd and 5th day after birth. In severe hypercoagulable requires a short course of heparin at 10 000-15 000 IU per day subcutaneously. Patients who are prescribed anticoagulants and antiplatelet agents, inhibit lactation.
Patients who have been diagnosedantiphospholipid syndrome during pregnancy, subject to careful monitoring and control of the state of blood coagulation due to the risk of disease progression.
Thus, timely diagnosis,training and rational management of pregnancy in patients with antiphospholipid syndrome with adequate treatment reduces the risk of complications during pregnancy and the postpartum period.