The development of lymphedema undergoes several stages,from subtle to a progressive increase in limb edema. Lymphostasis most frequently occurs in young women, which is progressing, leads to physical suffering, psychological trauma, and even disability.
Content
Causes of secondary lymphostasis
Secondary lymphostasis occurs in diseases or injuries normally developed lymphatic system. Causes of secondary lymphostasis may be as follows:
infections (mainly staphylococcal) and parasitic (usually in tropical countries)

an injury that results in damage to the lymphatics and lymph nodes (burns, radatsionnoe irradiation, mechanical damage)

benign and malignant tumors of the lymphatic system

iatrogenic (during operation when performed purposefully delete or nodal irradiation, while removing a cancerous tumor)
during step lymphostasis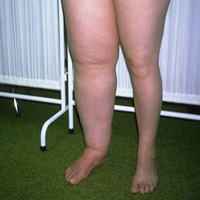 Most often suffer limfostazom young women. Progressing, lymphostasis leads to permanent psychological trauma, physical suffering, and further disability.
In the development of lymphedema (lymphostasis) passesseveral stages of development. Transient lymphostasis barely noticeable, as a rule, independently passed. There is a small, barely noticeable progressive swelling, to which patients are accustomed to, and which they do not see. No pain arises.
The first stage lymphostasis
The first stage is a limfosazaspontaneously reversible (soft) tissue edema. With the progression of lymphostasis swelling becomes visible, you can press your finger on it. The patient sees an increase in the limbs. Significantly reduced edema morning, while the evening edema reappears. At this stage the patient limfastaza rarely go to the doctor, but it starts to bandage swollen limb, applying folk remedies, iodine mesh.
If the time to consult an expert,under the influence of venotoniki and elastic compression edema can pass completely. At this stage, has not yet developed connective tissue proliferation, and timely initiation of treatment can completely halt the progression of the disease. Manual Lymphatic massage, pneumocompression and rational selection of compression hosiery will monitor the progression of the disease.
The second stage lymphostasis
Spontaneous irreversible swelling, more runninglymphostasis (lymphedema) stage. Later comes the hardening of the skin through the growth of connective tissue, and the swelling is no longer soft. Pressing the tissue remains fossa. The elastic stretched skin already felt sick, a high tension can cause pain. Pain is often a reason for going to doctors. However, treatment at this stage is quite difficult and requires a doctor and a great effort of the patient. Apply various techniques Lymphatic massage, bandaging, elastic compression. With a positive attitude of the patient and persistent long-term treatment - success is assured.
The third stage lymphostasis
This step develops irreversible swellingfibrosis, cysts appear. The affected limb loses circuit due to the growth of altered tissue, there comes a stage elephantiasis - an extreme step lymphostasis (lymphedema). mobility restrictions may occur due to the increasing weighting limb of a mounting contracture (a traffic violation in the joints), deforming osteoarthritis, leading to limb dysfunction.
In advanced violation limfootokajoins complications, which in the absence of adequate treatment, may accompany all my life - cellulitis, erysipelas, athlete's foot, eczema. Less commonly, it may be the tumor transformation - limfoangiosarkoma. Given that lymphostasis accompanies many diseases, early treatment is recommended to a specialist at the last occurrence.