Thrush or, scientifically, vaginal candidiasis - a very common disease. However, questions on it, there are many. We will try to answer the most common.
Content
---

It would seem that a more simple and comprehensible disease just does not happen. For
physicians, but not for patients. They have a lot of questions there.
Question 1. thrush only women suffer?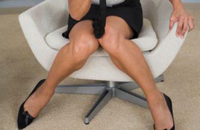 Men, too, is a thrush. Just it called differently - candida balanitis.
Question 2. Is Sexually Transmitted thrush?
Not true.
The fungus genus of Candida, yeast infection causes, there is the vast
Most healthy women. It is part of the normal microflora
vagina. Therefore, even if during sex partner
share their fungus, nothing bad will happen. One more
one less. In order to get sick is not enough.
Officially
to diseases, sexually transmitted diseases, yeast infection does not apply.
However, researchers are single, that with it, and do not agree
believed that if we treat - then both partners. Russian doctors
still adhere to the classical point of view and to those radical
measures do not reach.
Question 3. Is it true that with good immunity thrush is not terrible?
A
Oh, no! Recent research conducted by the Americans, showed
that the occurrence of thrush and immune status are not linked
a.
Because of what, then, there is the disease?
It is believed
thrush that has a lot of reasons, but do not always have a specific
women can identify them. Scientists say more about the "predisposing
factors ", which include: pregnancy and lactation, diabetes
diabetes, antibiotics and oral contraceptives. All of them
disturb the natural balance of microorganisms that form the biocenosis
the vagina of healthy women, and create favorable conditions for
active fungus reproduction.
Question 4. Do I need to be treated for a yeast infection during pregnancy?
Thrush
during pregnancy - the situation is, unfortunately, not uncommon. The thing is,
that hormonal changes during pregnancy affect the microflora
the vagina, making it more convenient for the fungus.
Mom-in
confused: on the one hand to take the medicine scary, and suddenly it
adversely affect the fetus? On the other hand, itching, and burning is not allowed
rest in this already difficult time.
issue an unambiguous decision
- Should be treated. And not just to get rid of the symptoms,
but also to save the baby's health. After passing through the birth canal
mother, he runs the risk to catch an infection. Then treat already have to
both: mother - of vaginal candidiasis, and child - from yeast
oral cavity.
In such situations, special preparations are usually used
low toxicity. Moreover, most of them do not take
inside and locally - in the form of candles and creams.
Question 5. Sweet Tooth suffer from thrush often those who do not like sweets?
Although
This myth is widely distributed, a reason for it has not. before
just because the level of sugar in the body is maintained
relatively constant and does not depend on how many candies and
we ate chocolates. So to excess glucose fungus simply do not reach.
all
different is the case in patients with diabetes - the probability
thrush they actually higher than that of a healthy person.
Question 6: Is it true that during the yeast can not eat dairy products?
Exist
It believed that diet may somehow affect the thrush. For example,
products containing yeast (bread rolls and white bread), as well as various
cheeses (particularly with noble rot) provoke the growth of the fungus. A
dairy products containing live lactic acid bacteria - on the contrary. But
reliable studies that would confirm or deny it,
no.
Question 7: What if there were symptoms of thrush?
In no case do not take antibiotics. Antibiotics act on
bacteria and are useless for fungal diseases.
AT
normal microflora of the vagina is "useful" bifidobacteria (by the way,
is the same type of bacteria used to obtain
a variety of dairy products). So, useful
bifidobacteria do not allow the fungus to spread. Taking antibiotics,
we kill them, and it is here that candida ruthlessly "capture"
the vacated space. This means only one thing - to be symptoms
reinforced ...