How to treat acute glomerulonephritis? Answer to this question you will find in the article.
Content
---
How to treat acute glomerulonephritis
Treatment of acute glomerulonephritis complex and includes:
appropriate physical activity mode, bed mode in
active stage of the disease (2-3 weeks) and its restriction in the period
remission;
dietherapy, the basic principles of the use of which are
Exception from the food of products causing allergies from this
Patient, restriction of products containing a significant amount
sodium (resolving diet), which is one of the factors,
contributing to the development of edema and hypertension, including products with
Large potassium content to prevent hypokalemia,
developing with corticosteroid therapy;
symptomatic drug therapy with the inclusion of diuretics, hypotensive and other drugs;
Active methods with the help of drugs, action
which are directed to individual unmune reactions leading to
Damage to the shorts of the kidneys: with the help of antibacterial drugs
(Penicillin, ampicillin, oxacillin, methicillin, ampiox 250-500
thousand. elf. 4-6 times a day intramuscularly and others.) within 2-3 weeks
The antigenic component is suppressed (streptococcal and others.),
immunosuppressive agents (prednisone on average 20 mg / day, with
need to bring this dose to 60 mg / day.; Cyticostatics I
antimetabolites) depress the production of antibodies, anticoagulant and
Antiagregatny preparations (heparin, hepalpan, methinesol, dipyridamol and
Dr.) Inhibit the complementary system, impede aggregation
Barocyte.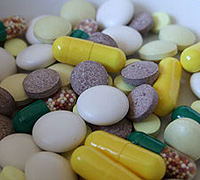 The possibility of heavy complications (purulent, Herpes Zoster and others.), sometimes
Threatening the life of the patient, require compliance with the testimony when appointing
immunosuppressive tools that apply only in the absence of
effect from another treatment, t. E. In the absence of spontaneous remission, which, with acute glomerulonephritis
observed in 80-90% of cases. Salurates are appointed for 5-7 days,
By increasing the duration and dose in the resistance of edema to sore
diet. Doses: hypothiazide from 25 mg to 200 mg and higher depending on
effect and severity of the disease; Furosemid (Laziks) - 40-80 mg; Ugit
(Practical acid) - 25-50 mg; Aldakton (Veroshpirius) - 25-50 mg in
day.
In connection with the different localization of the action of diuretics in nephron
Use them in various combinations: hypothiazide furosemid, etc.
Hypotensive means (reserpine, starting with 0.1 mg per day, operated,
Starting from 0.12 mg per day and others.) apply in the absence of effect from
Salad diet or if this effect is insufficient. Immunodepressive
Preparations are prescribed in the absence of signs of reverse development
Symptoms of acute glomerulonephritis 4-6 weeks from the beginning of the disease.
Therapeutic course of treatment prednisolone
is 3-6 weeks at a dose of 1-2.5 mg / kg of mass for 8 weeks, for
Cycloofosphamide and Azatiotrian - 2-3 mg / kg of mass for 8 weeks.
The course of maintenance therapy is appointed for 8 weeks for cytostatics and antimetabolites in half of the therapeutic dose.