How diagnosed myocardial? How is the treatment of myocardial dystrophy? The answers to these questions can be found in the article.
Content
---
Diagnosis and treatment of myocardial dystrophy
The clinical picture, in accordance with a landmarkmyocardiodystrophy development to some extent dependent on its stage. In the early stages of cardiac complaints myocardiodystrophy character may be missing. Fatigue, decreased performance, poor exercise tolerance may be regarded as manifestations of the underlying disease. Most often, patients reported cardialgia localized in the cardiac apex, long-term without a clear connection with the exercise at the time of its implementation, are not eliminated after taking nitroglycerin. At the same time, both physical and emotional overload often provoke false angina in these patients, but more often - after a while. Sometimes the pain can be groundless. In addition, many patients worried about feeling short of breath, shortness of breath, palpitations. In stage II-III myocardiodystrophy may appear edema, dyspnea at rest, rhythm and conduction disturbances.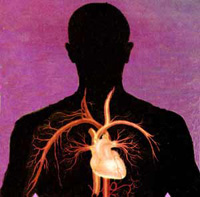 An objective examination at the beginning ofmyocardiodystrophy defined weakening tone over the top of the heart, a short systolic murmur, tachycardia. In the following may be formed gallop rhythm due to the appearance of pathological tone III, frequently found rhythm and conduction disturbances (extrasystoles, atrial fibrillation, intraventricular and atrioventricular block), there is a lack of circulation. Certain clinical manifestations are due to that noncardiac pathology which led to the development of myocardial dystrophy. Thus, in myxedema can significantly increase the size of the heart, the movement of its walls with the lingering and slow; thyrotoxicosis may develop very early atrial fibrillation; with anemia can be simulated symptoms of valvular heart disease - can be auscultated systolic murmur typical of the mitral, tricuspid and aortic valves; when disovarialnyh diseases often patients complain of "hot flashes", hot flashes, sweating, paresthesia in the extremities, and so on. d.
The ECG is often detected reduction and flatteningT wave, the most pronounced in the right precordial leads, at least in the left. Sometimes ST segment shifts, impaired intraventricular conduction. If these changes are set to ECG for diagnosis performed pharmacological tests (potassium, obzidanovaya). In case of such changes in intracellular potassium deficiency ingestion of 4-6 g of potassium chloride can normalize the ECG. When excessive influence of catecholamines on the myocardium and possible normalization of the ECG for 1 - 1.5 hours after ingestion of 60-80 mg obsidan (propranolol, inderal). In cases of norepinephrine depletion of stocks in the endings of the sympathetic nerves of the heart ECG can be restored after receiving p-agonists izadrina. However, it should be noted that these pharmacological tests need not absolute. Only the combination of clinical, instrumental methods and follow-up allows you to diagnose myocardial dystrophy.
Treatment should be directed at eliminatingthe main process causing degenerative changes in the myocardium. Besides assigned pharmacotherapy, affecting the metabolic processes in the heart muscle (Riboxinum, mildronat, safinor, vitamins Wit group. D.), Normalizing electrolyte balance (drugs potassium, magnesium), improves microcirculation (dipyridamole, teonikol, aspirin), acting on catecholamine balance (Inderal, obzidan, Inderal). Simultaneously, antiarrhythmic therapy, the treatment of heart failure.