Explanation ultrasound analysis tables on the thirty-first week; Find out what shows ultrasound during pregnancy and which indicators are the norm in the 31 th week.
Content
---
Explanation ultrasound tests on the thirty-first week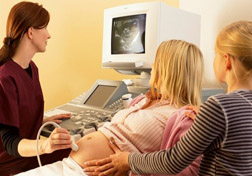 Ultrasonography (ultrasound) isscreening and selective. During pregnancy this procedure are on average three times (once per trimester): Approximately 10 th, 22 th and 32 th weeks. With this method it is possible to determine the presence or absence of defects in the developing fetus, child parameters, the state of the uterus, placenta and amniotic fluid quantity.
Ultrasound examination of the thirty-first week shows:
previa child: pelvic, head, lateral, oblique and unstable;
fetometricheskie data (femur length, humerus length, biparietal fetal head size, head circumference, abdominal circumference, and others.);
the state of the internal organs of the fetus and the lack of defects;
the maturity of the placenta and the place of its attachment;
amount of amniotic fluid;
the number of turns around the umbilical cord of the fetus (if any);
status and fetal activity.
Table rules ultrasound analysis of pregnant women on the thirty-first week
| | | | | |
| --- | --- | --- | --- | --- |
| Height | Weight, g | BRGP mm | DlB mm | DGrK mm |
| 41.1 | 1779 | 80 | 61 | 81 |
BRGP - is the size of the fetal head biparietal; DlB - is the length of the thigh; DGrK - is the diameter of the thorax.
Appointment to the holding ultrasound gives an obstetrician-gynecologist.
Preparing to conduct ultrasound during pregnancyIt includes a complex of measures: it is necessary to take a medical policy, a large towel or a sheet, dry cloth. To the doctor can better examine the fetus, the uterus and the pelvic organs, drink half an hour before the procedure, non-carbonated water and pre-clean the intestines from the gases and content.