Neurofibroma - a very rare disease, they sufferunits. But do not exclude themselves: having the genetic nature of this illness can occur in any person. So, no one in the family of the hero of this article and did not think that they will be faced with neurofibromas. The fact that the patient did for the salvation of his family and doctors, read this article.
Content
---
It never rains but it pours
Because of the huge tumor, which graduallydeveloped in early childhood, 31-year-old Huang Chun-kai could neither talk nor walk without assistance, not to mention the constant pain he felt the young man.
His family lives in a remote from the big citiesmountain village in Hunan province, it is large and poor family, not in a position to receive timely and quality medical care.
However, the case of Huang Chun-kai has become known in the art Fuda Cancer Hospital, and they offered an operation, which was successfully carried out.
There were serious concerns about the risk ofmassive blood loss due to the abundance of blood vessels in the tumor tissue. But nothing happened. And tumor in Chinese patients, according to preliminary estimates, not malignant.
What doctors say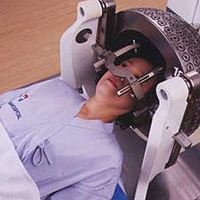 In Huang Chun-kai neurofibroma, as the doctors say - this is an emergency which has no analogues in the world practice the case.
Typically, nerve tumor - thisbenign tumors affecting the main trunk of the nerve or its branches. Although any affected nerves, including spinal roots, most tumors are located subcutaneously as soft formations.
Neurofibromas or fibronevroma - one of the mainvarieties of tumors, it is a benign tumor of the peripheral nerve, growing from fibroblasts - the main cells of connective tissue.
80% of patients appear on the skin color stains of coffee with milk (5 or more) with a diameter greater than 1.5 cm; 93% in the armpits are similar to freckles spots.
Characterized by a tendency to epileptic seizures, mental retardation, a very high risk of spontaneous mutations.
It is known that the neurofibromatosis type I caused by mutations in NF1 gene, located on chromosome 17.

Malignant degeneration of neurofibroma is rare.

Treatment of neurofibromas - surgical, in the WestRecently, increasingly common method of removing these usually small tumors by means of so-called gamma-knife, which is the concentration of many sources of radiation energy focused through a lens system into a single point.
However, in this case Chinese patient would hardly be applicable - the field for high-energy applications would be too large.