This is an acute inflammatory disease of the gastrointestinal tract, which pathogens are bacteria of the genus Shigella (Shigella). What do we know about the dysentery?
Content
Familiarity with dysentery
Shame on my mother, who has not washed after the baby handlesfun games on the street, in the sandbox! Under the nails were definitely crumbs dirt and sand, which sit quietly Shigella. These bacteria can enter the body even after the child toy, with whom he played outside the home or in the company. In addition, carriers of dysentery pathogens can become ordinary flies.
Infection can occur through contaminated wateror food items, which touched the sick with dysentery, through the fruits and vegetables that are ever fertilized feces of birds, animals or even humans.
Dysentery - this is serious
Thus, the unexpected happened - the microbes were in the body of the child. The incubation period of dysentery from 2 to 10 days. After that, and crumbs, and mom to be a lot of serious challenges.
At the beginning of the disease is usually feverbody to 38-39 ° C (in severe cases up to 41 ° C), pain in the abdomen. The child disappears appetite, possible vomiting. There is loose stools, up to 10-20 times a day, with mucus and blood, then it takes the form of a greyish-green mucous lumps streaked with blood. The child patient may be false urge to defecate, do not bring relief, often causing pain.
Dysentery has symptoms of poisoning - headachepain, tension of the neck muscles, lethargy. High temperatures can cause delirium. The risk of the disease lies in the fact that frequent diarrhea leads to dehydration of the body, so try to make up for lack of fluid in the baby's body.
Dysentery can be different
The duration depends dysenterythe nature and extent of disease infection. There are mild and severe dysentery. Mild forms of dysentery plagued by a child under one and a half weeks. The temperature at the same time increased slightly, there remains an appetite, defecation unpainful. The main symptom of the disease in this case is a frequent (4-5 times a day) stool with mucus. Severe form is accompanied by a very high fever, severe vomiting and diarrhea.
Doctors distinguish this disease andduration - acute dysentery, prolonged and chronic. Not more than a month the child may need to recover from its severe form. Prolonged illness lasts from one to several months, and chronic - for years! The last two types of dysentery can often occur due to improper treatment of this disease. Therefore, as soon as you notice symptoms of infection, immediately consult a qualified technician.
There are cases where symptoms of dysenteryobserved, but the microbes still live in the intestines of the baby. They are in a kind of "collaboration" with the bacteria of normal intestinal flora. Since the child - dysentery carrier can become infected with other children, the way in institutions closed to him. Therefore, it is important to any anomalies in the gastrointestinal tract to treat qualitatively and in the shortest possible time.
How to help with dysentery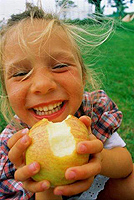 When the first symptoms of the diseaseCall your doctor at home. Be sure to keep in a jar cal child to the doctor could examine him. Before arrival of the doctor did not give your child any medicine for diarrhea. But, if you're away from the medical institution, the child can help to cure "furazolidone" in a specified dose of annotations.
The kid must be tested for bacteria overgrowth andthe presence of fecal bacteria Shigella. dysentery treatment is usually carried out with the use of antimicrobials (antibiotics). If you are hypersensitive to antibiotics your doctor may prescribe another treatment.
Effective treatment of dysentery passes inhospital, but with milder forms of the disease (when there is no heat, dehydration or severe intoxication) can be at home. However, the doctor every day or every other day should visit the patient.
Be sure to disinfect a room whereare or have been ill child. Sex should be washed with a 1% solution of chlorine bleach. Underwear and bed linen should be boiled first with disinfectant, and then washed. The pot and the toilet need to handle 10-20% solution of bleach, toys soak for 30 minutes in a 2% solution of chlorine bleach solution, then rinse thoroughly with water.
All items should be disinfected andsurfaces with which the baby had or will have contact. Just do not overdo it with the "chemistry" and thoroughly rinse all fresh water. Such procedures are not required to carry out on a daily basis.
Do not forget to wash your hands
How to protect the body from bacteria and babyavoid serious gastrointestinal diseases? The answer is simple: after a walk, toilet and before every meal, wash your hands with baby's usual children's soap.
According to research by American scientists,Some types of soap with so-called antibacterial ingredients at first really kill germs, but with time they get to these components, a strong immunity and are not destroyed. So the usual baby soap is fine for daily toilet.
To remove germs from fruits and vegetables, rinse them thoroughly enough in cold running water. Water for drinking should be boiled for 3-5 minutes.
Remind your child that there are dirty vegetables, fruits and berries is very bad, do not drink boiled water from the tap or from the creek is dangerous, and to take his hands out of his mouth caramel simply impermissible.