For the treatment of colon cancer primary wayTreatment is surgical vmeshatelstvo.Kak behave in the postoperative period? As whether the operation will affect the sex life? What to do if you need a colostomy? Read this article.
Content
What are the types of treatment used?
For the treatment of colon cancer is a major method for treating surgery.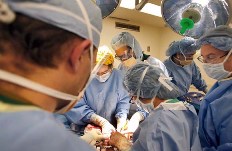 However, currently used and suchmethods such as chemotherapy and radiotherapy. Your doctor will make your treatment plan, taking into consideration a number of factors, including your age, overall health, the type and size of the tumor, the microscopic structure of the samples taken for the study of its tissue, and the presence or absence of metastases outside the intestine.
While in the hospital, you may paynote that other patients receive such treatment does not like you. Often this is due to the fact that the form of their disease is different from yours, but because it requires a different treatment. This may be due to the fact that the views of various doctors with respect to the appropriateness of these or other methods of treatment are different. If you have any questions relating to the designated treatment for you, do not be afraid to ask them to your doctor or nurse caring for you. It is often useful to make a list of questions, going to the doctor and take a friend or a close relative.
Some people think that to make a decisionrelative agreement or disagreement on the method proposed by the treatment could help knowledge of opinions on this subject another specialist. Most doctors are happy to refer you to another specialist, you just feel it for yourself useful.
operative therapy
Your doctor will discuss with you the question of the most appropriatefor you type of surgery, depending upon the type and size of the tumor, as well as the presence or absence of metastasis. Before any operation, make sure you thoroughly discuss all related issues with your doctor. Remember that no operation and no procedure should not be carried out without your consent.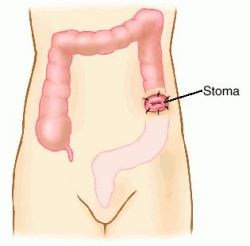 Surgery - the most commonused form of treatment for colon cancer. Normally bowel segment, which formed a cancerous tumor removed, and then the two open ends interconnected. The operation may also be located near the removed lymph nodes, because, first of all, that they can spread the cancerous cells from the tumor.
If for any reason, to connect the ends of the intestinepossible, then one of them can be displayed on the front abdominal wall. This operation is called a colostomy, and the hole is known as bowel stoma. On the stoma are special bag to collect feces (Colostomy bags). Sometimes a colostomy do only a certain period, after which (usually a few months later), you can do the operation for connecting the ends of the intestine. If such an operation is not possible, it is necessary to restrict colostomy. However, only a relatively small percentage of patients with colon cancer in need of colostomy.
Sometimes, the patient undergoes surgery, whichIt called an ileostomy; in this case, a small segment of the small intestine is output pa abdominal wall. As with colostomy, faeces are collected in a colostomy bags, put on the stoma As a rule, it is not the final step for patients with cancer of the colon and rectum.
Probably, you will put the hospital on the eve ofassigned to the operation of the day, so that doctors and nurses have time to carry out all the additional tests. To ensure complete emptying of the bowel you will be asked to strictly follow the diet and take a laxative the day before the operation. Your doctor will tell you about all the necessary detail.
Sometimes, if the cancer has caused blockage and bowel obstruction, you may need urgent surgery.
The postoperative period
After surgery, you will be advised as soon as possiblebegin to move. This is - an important part of your recovery process, and even if you are prescribed bed rest, you should regularly do the exercises for the legs and breathing exercises (deep breathing). To learn how to do these exercises, you will describe in detail a physical therapist.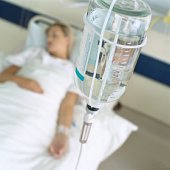 To recover the water content in your body,you will do an intravenous infusion (drip), as long as you are again not be able to eat and drink normally. Sometimes nasal opening introduces special thin tube that extends to the stomach. It serves to remove from the body of any excess fluid, so that the patient does not feel nausea. As a rule, it is put for about two days.
Just before and after the operation you will be putintravenous antibiotics to prevent various infections. You will also be assigned to wear special stockings and take the drug heparin. Both measures serve to prevent the formation of clots in blood vessels.
Because anesthetics reducethe intensity of intestinal peristalsis, it is important that the patient did not start drinking again, have not yet restored the normal operation of the intestine. After two days after surgery, you will probably be allowed to start to drink water in small sips. Gradually, this portion will increase (within a couple of days), then you will register light diet (usually 4-5 days after surgery).
Often in the urinary bladder of the patient is administered a smalla tube (catheter) to drain urine into a urinal. The catheter is usually removed after two days. Perhaps the introduction of a drainage tube in place of the surgical wound for rapid healing her.
After surgery, the patient is likely to feelpain or discomfort. There are several different pain medication is very effective action. If you designated drugs do not help, you need to put as soon as possible notify the doctor or sister, so that they were replaced by others. After some bowel surgery the patient may feel discomfort in sitting position if they have to sit for a long time, but this feeling gradually take place after the wound begins to heal.
Possibly, after about ten daysafter surgery, immediately after the removal of stitches you will be discharged from the hospital. If you think that you may experience problems when returning home, for example, you live alone and you have to climb a few stairwells, notify your nurse or social worker about the day of your discharge, so that you needed help was provided .
Many social workers are able to not onlygive valuable practical advice, but a specially trained counselors, they can also provide substantial support to you and your family, both in hospital and at home. If you have a desire to talk with a social worker, ask your doctor or nurse to arrange a meeting with him.
Before you leave the hospital, you will be assignedday visit to the clinic as an outpatient, to observe you in the postoperative period. With this visit to the doctor, you will be able to discuss with him all the problems that you are likely to encounter after the operation.
Some patients require a longerperiod after the return to normal operation in comparison with others. If you have any problems, you may prefer to discuss them with someone who is not directly related to your illness. In this case, it is advisable to consult a counselor or someone from a local support group of cancer patients.
whether the operation will affect the sex life?
Once you have returned to normal afteroperations generally any medical indication, not allowing normal sexual activity to resume, no. However, it is possible that you will feel some embarrassment in connection with external changes in your body, especially if you have undergone surgery but the imposition of a fistula in the colon (colostomy), believing that it interferes with normal sexual intercourse.
If your partner is able to understand you andsupport, it may be enough to speak frankly with him about your feelings to your fears and anxiety dissipated. You should not stop a false sense of guilt or embarrassment to contact your doctor and tell everyone that you care about: it will be able to refer you to a specialist consultant, if you find it useful.
Sometimes surgery to the rectum area canto determine the damage to the nerves going to the genitals. If such damage occurs in a man, then it can cause problems with the completion of intercourse, persistence of erection and ejaculation. But this complication occurs only in rare cases and is often temporary. However, sometimes it can be permanent.
If you encounter any problems, consult your doctor for more detailed explanations.
If you need a colostomy

As already mentioned above. Few patients with colon cancer in need of surgery, which is called a colostomy. For those who need it, it will take a lot of time and patience to learn how to care for themselves after such an operation. No one expects that the patient immediately be able to handle it. As always, when it comes to something new, things go easier over time and with experience.
Most hospitals have speciallytrained nurses, the so-called sister on stoma care, which will show the patient how to take care of the stoma and help him to solve any of the problems that he will face. It is also possible that the patient will be useful to talk to someone who has already learned to live after this operation. Often, the doctor or nurse can arrange such a meeting Such advice, coming from a man who has personal experience can be invaluable, especially if it is received within the first few months after surgery.
Before the surgery, the doctor or nurse carefullyIt develops ostomy position for each individual patient in order to prevent displacement of the patient's stoma bags at any position - sitting, standing or moving.
During the first few days after surgeryNurse itself will take care of stoma patients (instead of him) and watch to emptying and replacement of stoma bags were made with the necessary frequency. At first, the stoma will be slightly swollen, and it may take several weeks before it is reduced to its normal size. As soon as the patient feels well enough, a nurse will show him how to clean up and replacement stoma stoma bags. On sale there are different types of ileostomy and similar devices, and the nurse will help you choose the most appropriate for each individual patient.
Before proceeding to the replacement or stoma bags emptying, make sure that you have at hand a sufficient number of ileostomy and sanitation materials.
It is very advisable to keep all you need forThis procedure, in one place, so that did not have at the last minute to start looking for the necessary things. It should also provide itself with the opportunity to retire for a sufficiently long period to ensure that no one could prevent the implementation of these procedures and can work with the most comfortable speed and without fuss.
Some patients prefer not to wearColostomy bags constantly, but about once a day to wash and rinse the stoma jet pressure. Although this method is not for everyone, sister of ostomy care to discuss this with you in more detail.
It is advisable that a time whennurse will show you how to care for the stoma, attended by anyone from the next of kin in case you need help when you're home and encounter any difficulties.
Will I have to diet change?
That first of all, you will probably noticeeating certain foods disrupts the normal operation of your bowel or ostomy operation, if you made the transaction. Eating foods rich in fiber, such as fruits and vegetables, may lead to more or less loose stools and more frequent, compared with the norm, discharge from the stoma. Often - this is a temporary reaction, and after some time you may find that the same food is no longer give a similar effect. There are no set rules regarding the types of foods that should be avoided, and every patient should bring this rule for yourself on the basis of personal experience. Some products that are not suitable one can be quite a different suit. If you are unable to solve their own problems, consult a nutritionist.
Depending on the type and scale of the transferredoperations, perhaps you will suffer diarrhea. Tell your doctor or nurse. They can give you the appropriate medicine. If you have diarrhea, it is important to drink plenty of water.