Do feminists all the same? Is there a difference in the views of feminists? The answers to these questions can be found in the article.
Content
Feminist knowing
Perhaps the only positive character is a feminist knowing.
This is usually thin, simply dressed woman. She had read Marx and
Freud, know how to organize and carry out an action of civil
disobedience, know their rights and gain the upper hand in any dispute. Often
It is interested in psychology, Eastern religions and martial arts - but without
fanaticism.
Homework serves only,
when all the rest of the family get sick and can not speak for themselves
watch. The husband tries to pick economic and homebody. Children
in such families usually do not smoke or drink. Because they do not
prohibit. And grow unpretentious - with ranego childhood cook,
wash and clean up after themselves. . (Otherwise just does not cook food -
will go hungry. Do not wash the clothes - dirty).
Lyrical digression. Female,
It happened to be a guest of the son of a feminist, it can
decide if fell into a fairy tale. Still, there he is! Smart, independent,
knows how to cook and clean, he knows Marx and Freud, self
thinks ... Later, however, it is waiting for great disappointment. Sit on the neck
this does not sit down, take turns cleaning, cooking turns ... Besides,
We have to tighten and to show that you know how to do something else, but to turn
ass yes cook.
Feminist leadership
Feminists knows no does not like feminist leadership.
This is usually a large woman with a straight face, and many ice bust
rest of the body. It is sweating in the intense heat, but not heated, from
She likes to wear nondescript-colored jacket with a skirt. Before
became a feminist, was a small communist official. Hates
Freud, though, and did not read it. Marx, too, did not read, but loves and
He considers that it should know all.
The only condition that
organize - "one-man" ... or, in other words,
planning meeting, where in a few hours will be asking who Chivo
and why he did so little. Civil disobedience
can not organize, in the ideology of feminism fumbles only that she
It should "get paid more than the smelly goats." absolutely not
versed in psychology, religion, Christianity prefers the nearest-to-home-patriarchy, goes to church at Easter - Holy havchik.
Her husband effeminate,
non-self, prone to alcoholism. Children are the same. The girls
no femininity in men - courage. Because not
boys and girls they are, and do not understand that. Cook, clean, wash and
washed only on the pitch.
Lyrical digression. Female,
It happened to be a guest of the son of a feminist, it can
decide that he was in a fairy tale. Still would! Here it is, ready, obedient only
and take command! However, then it is waiting for great disappointment.
No initiative, prepares though humbly, but bad if
end clean socks, walking in muddy, not realizing that their
It can be washed.
Passive feminists
Around feminists leading feminists going passive.
It stooped lean women, prefers to emphasize the figure
clothes and dark colors do not use makeup. What worked,
unknown. Freud sometimes read, but find horny.
Marx also considered anxious, but not read. Organize something
may, but for this it is necessary to always someone near and present
I told what to do.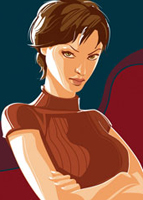 In planning meetings with present
happy when reaches them all, begin to bear
it-in-the-head-come, so they forcibly silenced and do not ask "and
why so few?". At present civil disobedience,
but only for the mind - do not hold the posters, not noisy, not waving their arms,
are quiet ... just stand on the sidelines and all at the same time
They tell each other anything in-head-to come. Psychology interested,
but only in order to find in other systems. Church visit
regularly, but since there can not be said-what-to-head-come,
Theodore's father ignored the statements that "feminism is exceedingly great
evil is! "
The husband at a big feminist, drinking,
slightly blunt, loving pluck it out on his wife and children. cooking is not
able, but hunger is not dying. The children are about the same - hamovatye,
no one is respected.
Lyrical digression. Female,
It happened to be a guest of the son of a feminist, it can
decide that he was in a fairy tale. Still would! Here he is, so strong,
nezavimisy, rough, smelling of beer and tobacco! This, probably, from the
bullies protect and save the family home! However, then it waits
great disappointment. Power of a husband to his wife prefers to use a
dityami and bullies - friends and drink.
Feminists envious
On the passive feminists are very similar character and figure feminist envious. The clothes they prefer bright, happy to use makeup.
If you mention them with Freud, confuse it with the fron, a neighbor with
third floor - and begin to find fault with all the latest in the rind. Marx
confused with Manka, Jung with Julia - and even if you stop
vumnye list of people,
will be remembered for the neighbors, acquaintances and spit venom in their direction.
Organizing can not, in principle, it is peculiar only
disorganization. At present planning meetings with discontent, so
overflowing with venom and bile that usually they try not to notice. If
until they reach the floor, they do not talk about their successes, and poured poison
strangers. Doing this can be a long time, with a love for art. psychology
interested to find other vile, selfish motives.
Interestingly, I met a girl,
ran into trouble, feminist envious hot; it will feed and
shall give to drink. She did with love to everyone, who is worse than her.
Just crazy about the small ugly dogs. However, should the same
girl-dog to gain strength and spread its wings, feminist
envious try to trample it into the mud.
In the ideology of feminism understands only that,
that hates men in general and her husband and sons in particular. Her husband
either dead or gone. Children either sit or left. From family only
ugly little dog that would run away, if I understand all
depth nature of his nurse. Church visit, especially love
Confession, repentance, when instead you can slander the Holy Father filth
about the neighbors.
Lyrical digression. Female,
It happened to be a guest of the son of a feminist, it can
decide that he was in a fairy tale. Still would! Here he is! Such a strong,
a separate, independent and hardware! However, then it can
wait for a disappointment. In fact, the son of a feminist very dependent
of warmth, though not necessarily, this heat must give
wife. Maybe a mistress. Even in such a man many of accumulated
aggression towards and he might try to get women to force his wife that he could not from the mother - love.
Feminists active
For feminists envious of their vociferous feminists like active.
This major activity of women who love bright clothes and makeup. Marx,
as Freud did not read, but it does not stop them. worked
no one knows where, but the work
It did not allow them to fully realize their activity. can organize
anything if in the organization participates feminist
knowing, it may have something useful. In planning meetings they usually do not
give the word, as in this case planning session gets out of control and
It may well spill over into another civil disobedience

If involved in civil actions
disobedience, the loudest and most of all. They can try to beat
policeman, knock over a bus or get official gobble tie.
Love psychology vyuchivaya once a week
(Or month, depending on the level of intelligence) for some axiom.
Memorized begin to apply to everyone, trying to adjust to
axiom everyone who does not conform to it. If you have read somewhere that all
blondes are dumb, no nails: bush rock the boat - be stupefied by force.
As a rule, feminist energy
still active enough to ensure that, come home, cook food (or
check the quality of the cooking etc.), clean-wash (or check
the quality of cleaning, laundry etc.) ... and just to be guardian
home. The husband at such feminists tend not stupid, neordinaren
and constantly fighting for the right to do anything on their own. Like children.
Sometimes they do it. Sometimes not.
Lyrical digression.
The woman happened to be a guest of the son of a feminist, it is
It may decide that he was in a fairy tale. Still would! Here it is, a mischievous elf:
I cooked, washed, cleaned - and then another began to be teased - say no
managed, goat sluggish. The truth may well over time
disappointed if you do not have the same emotional reserve
restlessness, as a feminist active. Anyone who has spent some time
FA in the company, accustomed to receive attention in large quantities and,
if that is not present, start to mope and sit back.
Feminists fanatical
There are feminists fanatical.
This medium-sized woman dressing as necessary, and something resembling
feminists know, instead of only knowledge fanaticism screwed. They are, if
frankly, do not care who to be - even feminists, though witnessed the
Jehovah, but there was an opportunity to feel the Voice of the Almighty,
glagolyaschego Truth (hereinafter simply GVGI). Marx and Freud are flying north.
Psychology or not taken at all, or memorize the whole
head, so then, feeling GVGI, push these knowledge in someone's ears.
In planning meetings, civil actions
disobedience, birthdays, house - sitting everywhere, lurking, waiting
a hint of insult or humiliation of the weaker sex, but when he heard ... I think,
you guessed it. The husband at such feminists have long accustomed to ignore it
attention, cooking, cleaning and wiping under her sermon. Children solid
sure that my mother that something is wrong with your head. However, a psychiatrist
I think so too. Digression here will not, because I do not
I can define a model husband and, accordingly, model ditёv.
Feminists busy
And finally, feminists occupied.
They are probably the most. They would gladly have devoted themselves
the ideology of feminism, but they have a husband and children, which is what is important.
Therefore, no books, no planning meetings, no demonstrations, and hands
flyers. Initially feed her husband, then a child, then another one
child, then pripretsya-law (feminist envious, not knowing
(Fortunately) what feminism) ... So live, on the one hand feeling
humiliated, on the other - they can not give up those who depend on them.