At present, Russia has developed a unique method of training for children with cerebral palsy. Details of the article.
Content
---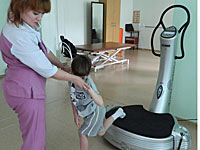 Since April 2013 the Scientific and Practical Center of Pediatric psychoneurology Department of Health in Moscow (Michurinsky pr., 74) under the leadership of the Department of Child neurologist, professor Batysheva TT, conducted trial of the Power Plate in pediatric neurology, with emphasis on children with cerebral palsy . The study group included patients aged 7 to 12 years with various forms of this disease. Even the initial findings suggest a favorable course of the rehabilitation process, which is expressed, among other things, to reduce the spastic component. After 6-10 sessions of rehabilitation in children improves the coordination of movements and gait, increased range of motion in the joints. In addition, the short time the process of rehabilitation in the gym (no more than 10 minutes for the whole exercise) does not allow much to overload patients exercise. Center specialists are hoping that they do have one more chance to help sick kids and carried out the study will contribute to the wide application of Acceleration Training technology and directly Power Plate trainers in the process of rehabilitation of children with cerebral palsy is not only in Moscow and Moscow region, but also in other regions of Russia .
reference
Power Plate trainers based on the methodologyAcceleration Training TM, originally created for post-flight rehabilitation of astronauts. Today TM uniformly accelerated training, with its proven efficacy, is used not only virtually all the world's leading Olympic teams and national sports teams, but also rehabilitation clinics around the world.
The unique technique, in which the platformcreates a three-dimensional simulator of physiological fluctuations frequency, causes the muscles to involuntarily (without CNS signal) reduced up to 50 times per second, thus activated to 100% of muscle fibers. To date, Power Plate certified not only as an athlete but also as medical equipment, and is probably the most actively studied of sporting equipment in the world. In addition to the effect on muscle fibers, training on the Power Plate also stimulates blood circulation, endocrine system, strengthens bones and has a positive effect on the joints and the musculo-ligamentous apparatus, has a strong rejuvenating and regenerating effect, has antidepressant effects.