First of all, the treatment of sleep apnea is to change the traditional way of life. Treatment of sleep apnea.
Content
apnea Treatment
If you have mild sleep apnea syndrome,
it is quite possible that there will be enough to change some habits and
normal daily activities:
Avoid drinking alcohol, smoking tobacco, and drugs that
cause drowsiness. These factors lead to collapse of the lumen wall
airway during sleep.
If you suffer from obesity it makes sense to throw the weight of destitution.
Even a small reduction in excess weight can improve some of the symptoms of sleep apnea.
Sleep on your side. Sleeping on your back can cause spadenie wall lumen airway during sleep.
If you have more severe manifestations of sleep apnea syndrome, these measures are supplemented by other treatments.
Treatment
Sleep apnea is aimed at restoring regular breathing during the night
time and relief of symptoms such as loud snoring and daytime
drowsiness. sleep apnea syndrome treatment also helps to cope with
such manifestations of the disease, like high blood pressure,
as well as reduce the risk of heart disease and stroke.
Treatment of positive airway pressure (CPAP)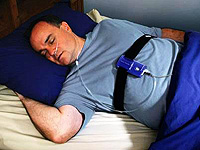 This is the most popular method for the treatment of sleep apnea. At the same time before going to bed
the patient wears a special mask over the nose through which the respiratory
way oxygen is supplied at a certain pressure. This helps to maintain
the lumen of the respiratory tract in the normal state. pressure level, under the
which oxygen is supplied, it is configured so as to
spadenie prevent airway lumen.
Sleep Apnea Treatment can also help cope with snoring. But,
cessation of snoring does not mean that the patient got rid of night
Apnea or no longer needs to use the apparatus for continuous
positive airway pressure. If you cancel this treatment
by a wrong application of his sleep apnea may occur
again.
It should be noted that this method of treatment can be accompanied by some side effects:
Dry or stuffy nose,
Irritation of the skin,
Rumbling in the abdomen,
Eye irritation,
Headache.

In order to reduce the appearance of these side effects, you can try to follow these tips:
Use nasal spray to eliminate dryness and nasal congestion.
Change the settings CPAP equipment.
Change the size or shape of the mask.
Add to inhale air through the mask a little humidity.
Use of CPAP equipment, which automatically adjusts the pressure of the oxygen.
Use CPAP apparatus, which initially takes the low pressure oxygen, and it gradually increases.

The mouthpiece can help to cope with the moderate
manifestations of sleep apnea syndrome. Furthermore, the device may
help in the treatment of snoring. Typically, the mouthpiece is made
dentist. This device helps keep your language and
lower jaw in a state that the airway lumen
constantly be open during sleep. This helps to cope with
manifestations of sleep apnea syndrome.
Side effects of the treatment of sleep apnea may be damaged:
teeth
gum
mandible.