The ability to choose a dentist ordental clinic in Kiev - this is not a luxury but a reasonable choice of the person, indifferent to their image and health. Where to go to treat your teeth? - This question bothers all of us.
Content


Polls have shown that patients seeking care in private
dental clinics of Kiev, have changed over the past five years
three or four dentists. So, choose a dental
clinic and experienced dentist you can trust completely, not
so easy.
Unfortunately, teeth are not able to treat all those who have received from
State diploma and a license for this activity. Are there
the criteria by which you can navigate when choosing dental
Clinic? Real professionals can be found in elite private
clinic, and in the modest office of public health facilities. but
Dentistry in the modern version - it is not only capable hands
doctor and multifunction devices plus the latest materials and
drugs.


How to search for a dental clinic
At all,
the best recommendation for a dental clinic - no loud advertising,
and the number of patients using the services of the clinic each year. And if
the dentist a "fan club", consisting of patients who go
only to him, boldly sit in his chair.
It is better to dentist
look for the familiar. Asking someone from friends where he was, then
naturally to look at the dental clinic. But you can
whether, for the first time referring to the dental clinic, to evaluate its level,
while he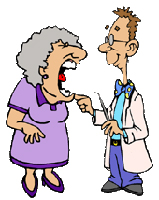 CB not being a dentist?
There are several signs that determine the professional approach to dentistry.
As clarified by phone in the dental clinic administrator
AT
Clinic uses a reliable system of protection of the patient and the doctor
infections (hepatitis, AIDS, etc.), modern methods of disinfection
instruments and disposable syringes carpool;
In places
a license for the type of work that you need. Please
mean that the license must be able to read this: for example, the treatment of caries
It defined the term "therapy", bite correction - "orthodontics".
The administrator does not shy away from answering questions about the patient's clinical features and treatment about prices.
AT
clinic has radiovisiograph (hybrid computer and X-ray
tube) - the device that allows you to see the condition of the bone tissue and the roots
teeth with minimal radiation dose.
What to look for in the registry Dental Clinic
Everywhere
cleanliness and order, at the entrance you are asked to wear disposable shoe covers.
This luxury clinic entourage has no value and is rich
decorated clinic may fall unskilled doctor
crooked hands.
On the walls of the hall - certificates of completion
dentists qualifications: the more the better and the more languages,
so, too, is better (different countries). At the same academic rank dentist
experience (age) category, and have little or no value. Many
professor of dentistry at the hands of a very high level for a long time to work
unlearned.
What to look for in a dentist's office
The appearance of the doctor and the assistant: they work in full gear - disposable gloves, masks, and sometimes - in the goggles.
Job
with one patient being "four hands" - a doctor helping an assistant.
The level of technical equipment of the modern dental office
is so high that the doctor is not able to cope with all
equipment.
The patient reclines in a chair - so treats
teeth of the civilized world (dental unit, which has
programmable drive chair lift and lower, she chooses
the optimal position of the body).
Each dental unit
equipped with special devices - portable and saliva ejector
vacuum cleaner. They allow the doctor quickly, without distraction, to remove from
oral saliva, pieces of tooth and filling material.
Almost all kinds of works are carried out with the use of local anesthesia: you do not offer "a little patience".
The doctor does not shy away from answering questions about the patient's clinical features, discusses treatment options with you.
Much
You can write about the ideal physician in an ideal dental
clinic, the ideal assistant with perfect legs, etc., but
almost no one is ready to pull such financial
dental services. Because the choice of a doctor depends on the ratio
individual to their health, namely, how much money and how
often he is willing to pay for it most health. Always and in all that
close to the ideal, is very expensive. Price and quality are closely related, but
It does not necessarily follow from one another.
Of course, desperate amateurs
experimenting with their teeth may look for a clinic by
iterate until they find the one that suits. But the risk with treatment
not recommend. After the teeth - of the health, and therefore save on yourself,
favorite, a luxury. Savings on health sooner or later
backfire even more complex problems, not in vain among today
good customer clinics almost a quarter of those who reworks anew
once someone plastered cement holes. Tooth either removed or
perelechivaetsya, but several times more expensive.
Therefore, do not start
his familiarity with the dental clinic immediately with a list price.
It is more important to pay attention primarily on the other - how else
You unknown medical organization will prove to you that it is able to
quality and comfort (ie, without the pain and hassle) to cure your
precious teeth ?!