In drawing up the plan for the treatment of gingivitis emanate from the form, the nature, course and prevalence of gingivitis, and most importantly - take into account the reason for its occurrence.
Content
---
Treatment of gingivitis
Removing the cause is the first and indispensable condition for the treatment of any form of mucosal inflammation of the gums.
The next step is the treatment of gingivitiselimination of local irritants. Microbial plaque, which contains a large number of microorganisms, often causes inflammation of the gums.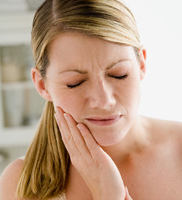 Adverse effect on the mucous membranesIt has tartar due to mechanical action. Therefore, the presence of gingivitis (catarrhal, ulcerative or hypertrophic) carefully remove tartar and plaque. It is recommended to start treatment (especially ulcerative gingivitis) with the antiseptic treatment of the oral cavity. For this purpose, 1 - 1.5% hydrogen peroxide solution. They irrigate the mucous membrane of the gums and between teeth from the syringe. You can also use cotton swabs soaked in a solution of hydrogen peroxide. Then, separate groups of teeth draped cotton swabs and an excavator or special tools remove plaque and soft plaque. Given that clinical gingivitis pocket is missing, removal of tartar and plaque is not a significant difficulty for the physician and patient. Therefore, immediately treated teeth. Ends removal of dental deposits by treating the gum solution of hydrogen peroxide, 0.06% chlorhexidine, furatsilina (1: 5000). At the first visit with the patient talk about the rules of oral care and prescribe the inspection of a week. By staining define hygienic condition, and the condition of the mucous membrane of the gums. In the presence of gingivitis can be made toothbrushing correction and sometimes use medical dressings, an ointment containing 3% of acetylsalicylic acid, 5% or 10% butanedioic debunolovuyu etc. ointment.
Furthermore dressings, medicines can be used in the form of application, the duration of which 15 - 20 min.
Topical treatments with total combined therapyaimed at increasing the body's defenses and periodontal tissues. complex vitamins with trace elements (undevit) can be used for this purpose, vitamin C, galaskorbin and others. The importance of a treatment of opportunistic diseases. If gingivitis is a common symptom of the disease (diseases of the blood, allergies, etc.), A topical treatment can give positive results with no overall impact. In the complex treatment using physical methods.
An important component of the treatment are events,aimed at strengthening the resistance of periodontal tissues, which is achieved through the elimination of local irritants, including occlusive disorders such as periodontal strain, traumatic occlusion, etc.
The final stage of the treatment of gingivitis - carefuloral hygiene. In mild cases of catarrhal gingivitis regular and systematic oral care leads to its elimination. It is imperative that constant monitoring by the physician for the quality of cleaning teeth.