Retirement - a severe stress for manyolder people, because he is deprived of the case, which helped him feel needed. But not all are worried about retirement. In this article you will learn the history of those for whom it has become a new stage in life.
Content

Reaching retirement age is postponedmany of our fellow citizens as a heavy blow of fate. As you approach retirement is growing anxiety in most people, you'd be useless. Children have long been its own life, and grandchildren had time to grow. The only way out - to help older people to not just maintain activity, but to open a "second wind". Attempts to rectify the situation is rarely successful. However, there are cases where retirees find themselves a niche and relieve yourself from depression and other problems.
The oldest student in Russia has become in the pastby Ilya Osipov. During its 78 years the man managed to get 22 degree. However, Ilya decided not to stop there and passed the exam to medical school. Last diploma - the end of paramedical department Novokuznetsk medical school, specialty "Medicine" - Osipov received in 70 years. According to the head of the nursing department of evening Tatiana Soboleva, when my grandfather rasprashivat about the conditions of admission, all agreed that this information needs of his daughter or granddaughter.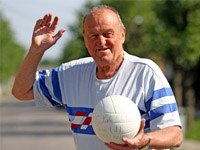 Salvation drowning - the handiwork of drowning. It seems that more and more elderly Russians came to this conclusion. And for many rescue operations are not figurative meaning. This winter, the staff EMERCOM for the Sakhalin Oblast was removed from the ice floe of 65-year-old Boris Silkin. Grandpa wanted to extreme. Build a raft out of plastic bottles, Mr. Silkin went on a journey along the eastern coast of Sakhalin Island. Within ten days, relatives, friends and rescuers followed the dangerous voyage. Finally, it was decided to interrupt him: a raft could crumble at the first serious sea conditions. In the past, he served as a captain Boris Silkin riverboat and many times got into trouble, but extreme water tourism became interested only after retirement.
And it is impossible in 70 years, according to GregoryTitov from Zelenograd, establish a rehabilitation and recreation center for seniors. Under his leadership, involved 120 people. Himself, Mr. Titov, master of sports in swimming, which became invalid after the injury, believes that age is only revealed better physical potential.
A resident of Ufa Tamara Valiahmetova - 67, onprofession is an agronomist. Until now pleased busy in the garden at his dacha, but, she said, always wanted to retire to do something "for the soul." When the dream came true, Ms. Valiahmetova seriously taken a great interest in embroidery and even began taking prizes at various competitions. And two years ago, I took up yoga. "I am 15 years old learned to stand on his head - admitted Ms. Valiahmetova. - But then I realized that it is better to do it under the guidance of mentors. I came to the gym and ask a trainer on yoga, you have the right equipment for me. When stood on its head, he lost the power of speech. "

Fashion is not only fun for young
Boris recently turned 70. Now he is one of Moscow's most successful DJs. "I already had a lifetime quite active person, never keen on picnic benches, - admitted the star dance floor. - But my professional experience is not particularly helped me when I retired. In the early 90s, even professionals such as I have not been out of work (he worked for the first Soviet computer). Then I began to go to the "Mosfilm", was filmed there in the crowd. One of my friends said that with such appearance, as I have - with a long beard and a thick head of hair - I should try yourself as a sitter. He was joking, but I tried and still pose for the artist - and the money is decent, and the form of involuntary supported. And in 1999, I and my present colleague George Vsevolodovich starred in the video in the form of DJs, but so plausible that a producer suggested that we stand for DJ turntables and control. "
The first 2-3 months, friends do not advertise thanengaged. But then it came to success. Now they - known throughout the country duo DJs Krugozory. "First we had to learn how to dance. Lessons never taken, simply repeated the movements that made dancing guys. Now they follow us, our freaks, - grins oldest DJ in Russia. - The main thing for people of retirement age - do not be afraid to try yourself in something new, do not be afraid to take a chance to start all over with a white sheet. "
These people are not afraid of old age, they are not frightenedpension. They just started to live happily. Unfortunately, such a force is not all older people, but these examples give hope that all is not lost.