The most miraculous and useful spa treatments often have natural origins. Thalassotherapy and mud baths - two bright examples of such procedures. They are shown in various skin diseases and the body as a whole, and besides, contribute to the detoxification of the body, relaxation and help to maintain the health and beauty of the skin.
Content
Thalassotherapy: Sea Water Healing Force
The effect of thalassotherapy is based on
Healing action of sea water on the skin and body. Sea water contains
Residual elements of magnesium, potassium, calcium sulfate and sodium. When using it
In procedures such as shower with sea water, wraps with algae, baths with
immersion, appliques and cosmetic masks these minerals absorb skin
Through pores. The standard set of thalassotherapy procedures includes warm baths
with sea water and algae, hydromassage and wrapping.
In thalassotherapy used only
Sea water body temperature, thanks to which mineral ions easily penetrate into
blood. It improves blood circulation and lymphotok, and also accelerates metabolism.
Directed under the pressure jet of sea water massage the body and help remove
Voltage, and their directional action reduces the manifestation of cellulite.

It is the opinion that thalassotherapy
Create real wonders in the treatment of the following diseases and defect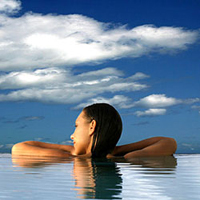 s:
Eczema
Dermatitis
Psoriasis
Asthma
Bronchitis
Muscular atrophy
Hypertension
Cellulite
Thalassotherapy - the best therapy for sensitive skin
In his book «Solutions for different
Types of skin» THE SKIN TYPE SOLUTION)
Dermatologist Leslie Berman writes that thalassotherapy procedures are especially useful for dry
and sensitive skin.
Dr. Berman is confident,
that procedures with marine algae and water help to moisten dry skin and
Remove inflammation and irritation. Most spa salons in which they provide
This service is located in Europe. If a trip to Europe in the near future is not
enters your plans, try using cosmetics to
The basis of sea water or algae.
Mud Baths - Relaxation Remedy
and relief pain
At first glance, in felting in
dirt there is nothing aesthetic, even on the contrary. And least it looks like
expensive cosmetic procedure. However, it does not stop thousands
women all over the world who take thalassotherapy daily. For many
Mud bath - the best way to relaxation and rejuvenation. Others in mud
Baths attracts health and skin benefits. Mud baths help clean skin
and remove muscle and arthritis arthritis.
What is the magic force of dirt?
Like sea water, dirt
Contains a large amount of minerals. Sea dirt consist of local
Volcanic ashes, impurity peat and boiling water hot springs. Sometimes
Essential oils are added to this mixture, which enrich the procedure relaxing
Effect of aromatherapy. Mud bath - intensive procedure. In the first ten
minutes you «Floating» in warm mud. Then you wash off dirt and accept
Mineral bath and pass by ferry processing. At the final stage
The procedures are wrapped in a bedspread with algae, and you slowly cool down, and
The body returns to normal temperatures.
Unfortunately, mud baths
All resolved not all. During this procedure, people suffering from claustrophobia can
feel the strongest discomfort. Mud baths are also contraindicated
Pregnant and patients of medical institutions.