Pamper yourself with water treatments and strengthen the health of Muscovites, tired of the urban fuss, may not wait for the resort. Water-building is offered today many metropolitan clinics.
Content
Contrast baths
What is useful. Restore normal metabolism, facilitate
manifestations of vegetative dystonia and varicose veins,
help lose weight, get rid of insomnia, sweating legs, tension
After physical or mental loads.
How to use. Two pools (baths) are filled with water 38
degrees in one, 30 — in a different. In each sit for 3-5 minutes. In warm
bath water temperature gradually adjust to 42 degrees, in cool
Lower up to 20. Home option — Hands or feet alternately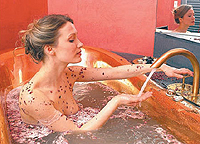 Immerse yourself
in a basic with cold and warm water.
Yodobromic baths
What are useful. Reduce the increased function of the thyroid gland. And since
Such baths remove itching and inflammation, it will help both
Diseases. Favorable for women with menstrual disorders
cycle.
How to use. Possible in a specialized medical
institution. And you can arrange a healing session at home. For this 100 g
Yodobromic salt (look in pharmacies) dissolve in water at temperatures
37-38 degrees, climb in the bath for 15 minutes.
Cannot be taken with iodine intolerance, inflammatory diseases, diabetes.
Carbon dioxide
What are useful. Hardened, increase endurance. Especially recommended for cardiovascular diseases.
How to use. In a specially equipped bath, where on the patient's body
Available carbon dioxide heated by steam, or rich in carbon dioxide
Gas water. During the procedure, gas penetrates through the skin, contributes
The formation of biologically active substances, baths improve circulation
blood and its indicators.
Cannot be taken during sharp inflammatory respiratory diseases
paths, heavy hypertension, acute myocardial infarction period.
Where they treat water
Russian National Center for Replacement Medicine and
Resortology: Borisoglebsky Per., D. 9, M. «Barricade»,
«Smolenskaya», «Arbat». Tel. 290-46-47 (from 10 to 14 hours).
Specialized Clinical Hospital Recovery
Treatment of the Moscow Department of Health: ul. Talalichina, D. 26a, M.
«Proletarian». Tel. 676-11-51.
CKB № 1 OJSC «Russian Railways»: Volokolamskoye sh., D. 84, M. «Falcon». Tel. 490-10-09.
Polyclinic No. 1 of the Office of the President of the Russian Federation: Per. Sives eneseeks, d. 26/28, M. «Smolenskaya», «Arbat», «Kropotkinskaya».
Approximate prices:
Underwater stretch of the spine — from 1500 thousand. rub. per
procedure; Shower Shako — from 500 rubles.; Medical baths — from 500-700 rubles.
Before the procedure you will be sent to a consultation of a physiotherapist, this is still
Approximately 1000 rubles.
Shower Shako
What is useful. Tones, promotes weight loss, pulls the skin, reduces cellulite.
How to use. Massage of water jet from the hose alternately and
Cool water. Held standing. Cannot be taken with fungal and
other skin diseases, carefully — With varicose veins.
Underwater stretch
What is useful. Helps with back pains, osteochondrosis, uncomplicated spine hernias.
How
accept. The patient is lowered into a bath with warm water. The body is fixed,
so man as if in weightlessness. With a gentle method of load,
tensile spine, is its own weight. With intense —
Dosage carbonated is added — from 2.5 to 25 kg.