What is the stretching of the ligaments, how the stretching is manifested? First aid when stretching.
Content
What is tensile ligaments
Tensile ligaments, as well as injuries, are among the most common
Measuring injury. This is damage to the musculoskeletal system
get, embarrassing stepping, stumbling down or slipping. It is often
diagnosed in athletes. In most cases, when tensile
There are gaps of individual bond fibers; in the most difficult cases
There is a complete gap. Typical stretching and bursting bundles
ankle joint; they occur mainly when
exposure to the foot on the unevenness of the soil and when the side falls, if
Stop cannot turn after the shin (for example, skiers).
Symptoms of stretching
When tensile, the ligaments immediately arises pain in the ankle
and, as a result of her, chromota. Later (usually the next day) formed
swelling and bruises in the area of ​​damaged joint, increase
soreness and chromotype - up to the inability to walk.
When bundling a bundle, the victim cannot walk, step on the leg.
The joint strongly swells, extensive bruises appear with internal
or exterior sides of the joint. When feeling under the ankles feels
Sharp resistant.
First aid when stretching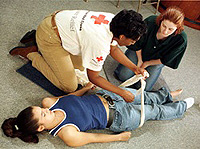 The purpose of first aid when tensile tensile is a decrease in pain.
The damaged joint must be immobilized (fix); For this purpose when
Significant pain You can apply an elastic bandage or tight binting
ordinary bandage. Then followed by the victim to consult a doctor, because
During tension, bone cracks are not excluded. As a rule, with
The victim of the victim can move the victim himself or
Support for another person. If it is not possible to seem right
doctor, you can take advantage of warming compresses on
Damaged joint. Despite the seeming frivolism of injury,
It is recommended not to avoid medical care, since without correct
Treatment Even light stretching can cause subsequently weakness
ligaments, which will result in frequent (familiar) to expand the foot and
re-stretching.
You can successfully use folk treatment methods
Strecks and fugitives of joints and ligaments.
Such recommendations you can
Give your patients:
Clean the fine onion and mix it with a small amount of sugar
sand cover with a thick layer of this mixture rag and impose on a patient
a place.
One of the best funds is the dried beagle. If it is immediately
impose on a bruised place, then even a bruise will not appear. On 1 Art.
Water spoon should be taken at least 2 st. Spoons crushed into powder
Bodhagi. This is a kind of dough and must be applied to the patient.
Bodhaya will show its effect when part of the water evaporates and the grass will become
semi-dry.