Product Quality Guaranteed - Recommendation Use this product in baby food issued by the official auditory organization. After all, can there be something better than what is recommended to use for children?
Content
---
Aquaphor
Most of the harmful substances contained in tap water is impossible to destroy boiling. In addition, when boiling impurities, necessarily contained in water from under the tap, actively react with each other, forming new, sometimes even more dangerous, chemical elements capable of causing various health problems - from exacerbation of allergy to cancer. Pregnant women, children and elderly are especially vulnerable in this regard. Reliable clean water can high-quality filter.
Filter «Aquaphor Kuvshin», Recommended by the Federal Service for Supervision of Consumer Rights Protection and Man's Welfare for Use for Children from two years.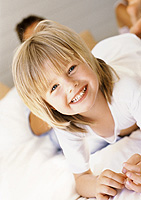 Such a recommendation guarantees that water purified by aquaphor is indeed flawless and does not contain chlorine or other harmful impurities. The highest cleaning quality in the filters of aquaphor provides «Smart» Aqualen fiber, which is no analogues in other filters. Aqualen is designed specifically for water purification and protected by patents.
Usually, granulated activated carbon is used for water purification. But over time, in the layer of coal under the pressure of water, ducts must be formed: through them the water flows «through» Virtually not cleansing. The fibrous structure of Aqualena prevents this, so all the water passing through the filter is forced to part with impurities accumulated in rusty pipes. At the exit - only clean drinking water. Tasty and useful - both for you and for your children.
In addition, companies, confident in the highest quality of their products, constantly confirm this in independent international laboratories.
In 2007. Aquaphor successfully passed an inspection for compliance with the quality of food products in the company LGA (Germany) - one of the most stringent organizations inspecting what we eat and drink.
Aquaphor has a certificate of TUV CERT. (Germany) for compliance with the company International Standard ISO 9001: 2000 (Received in 2006.).
Filter «Aquaphor Kuvshin Gratis» Successfully passed the tests in the independent Russian Consumer Test Institute (established by the International Confederation of Consumer Societies) (2007.). Test filters were bought by the Institute independently, retail.
Aquafor products are unique and qualitatively, which confirms the availability of more than 20 Russian and seven international patents, as well as numerous tests in well-known institutes, laboratories and television programs on central television.
What model filter aquapho choose
Aquaphor
Jug
(Models
Miscellaneous
volume,
Colors I
Design
Aquaphor
Crystal,
Aquaphor
Favorite
(stationary
Filter C
Individual
crane
PROS
MINUSES
PROS
MINUSES
Little
price
Resource
300 liters
Resource
up to 15 000 liters
More
High
price
Not
Required
Connections
To
Water pipe
Necessary
wait until
Filtered
water
Separate
Crane: Any
amount
Water in any
time
Required
Installation B
water pipes
Quality
Cleaning
water:
equally
high
* Testing passed «Aquaphor Jug Prestige» with module B100-5
Cut the experiment…
In an independent laboratory «Ecotech-Moscow» Conducted comparative tests of filters-jugs of different manufacturers. Filters «For the purity of the experiment» were bought in the usual store. Water specially contaminated with iron, petroleum products, copper and analyzed six indicators. Advanced filtering rate.
Tests have shown that, for example, the copper content in water purified by the aquaphor filter is reduced 30 times, while the best of filters of other manufacturers was able to reduce the concentration of this heavy metal only 12 times.
Test Result: On the combination of productivity and efficiency of water purification Filter Aquaphor has a certain advantage.


It is important
Thanks to the selective (selective) properties of the fibers of Aqualen, AquaFor filters are able to distinguish harmful impurities from useful, due to which, after cleaning, the water retains its usual mineral composition.
Prepare with aquaphor on your health and your children!