The cold months of the year - a period when the bodyany person being tested. This applies particularly to children. During a visit to child care, transportation, kids walking literally attacking pathogens of various respiratory infections. And not always the immune system can give a fitting rebuff to pathogens. Then the child is ill.
And all the pain usually begins in the throat, itredness, fever, expiration of mucus from the nasal passages. Then take heart infection can go down the airway inflammation then develops in the bronchial tree, lungs. And it is fraught with fits of coughing. Treatment of respiratory tract infections complex. The list of drugs recommended by a doctor can be Linkus syrup. Let's look at its composition, pharmacological properties, methods of application Linkus syrup and other forms of medicines.
General information about the preparation Linkus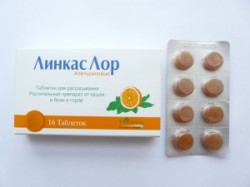 Syrup Linkus - a drug that is based onplant components, which reduces the intensity of coughing, which helps get rid of the accumulated mucus in the airways. It has a brown color and characteristic odor.
The following dry extracts used in the manufacture of the syrup:
leaves adhatody vascular;
fruitlets roots and long pepper;
licorice root;
flowers fragrant violets;
marshmallow flowers;
flowers and leaves onosma pritsvetkovoy;
rhizomes and roots of Alpinia Galang;
hyssop leaves drug;
Cordy broadleaf fruits;
jujube fruit.
The auxiliary substances are taken as: citric acid, sucrose, methyl parahydroxybenzoate, glycerol, propylene glycol, propyl parahydroxybenzoate, purified water, oils - peppermint and clove.
Syrup is packaged in dark glass bottles of 90 ml.
The action of the components of the drug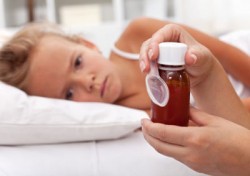 Linkus syrup recommended assymptomatic agent in the presence of airway infections and inflammatory processes. It bronchitis, tracheitis, tracheobronchitis, pneumonia, SARS, influenza, and other conditions where there is a cough, in which phlegm difficult to separate.
How to apply syrup Linkus?
Drink syrup can regardless of food intake. The dosage is as follows:
kids from six months to three years should be given the sweet medicine for half a teaspoon three times a day;
from three to eight years - full teaspoon three times a day;
from eight to eighteen years - also on a teaspoon, but four times a day;
adults to achieve therapeutic effect should drink two teaspoons three or even four times a day.
Treatment usually lasts five to seven days, in difficult situations syrup reception rate may be longer.
Linkus syrup can not be used with medications,cough depressing. This applies to libeksin and preparations containing codeine. Otherwise, such an interaction of components may lead to adverse effects - stagnation of phlegm in the lower respiratory tract and lungs.
About contraindications and adverse effects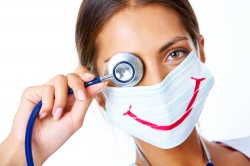 Typically, patients (both adults and children) wellLinkus transfer technique, which has also a pleasant taste. And only people with a sensitivity or allergy prone to at least one of the components of the composition, there may be skin rashes, swelling, blisters, itching. Then, the drug should be stopped immediately and the patient to relieve these symptoms of allergy prescribe antihistamines.
This syrup is not prescribed to children, ageat least six months. The impact of the drug on pregnant women and the developing fetus has not been studied, so the manufacturer does not recommend taking it while carrying the baby and in lactation period. Suffering from diabetes need to be careful, because in the presence of sucrose preparation.
For other forms of release
In addition to the syrup can be seen in the pharmacy or other dosage forms: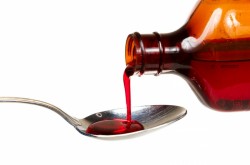 "Linkus SARS" manufactured in granules. They are cardamom, anise, lemon, coffee, chocolate. They are used for solution preparation, which should be taken hot inside. These granules are made from a thick aqueous extract of plants such as white willow bark, leaves adhatody vascular, flowers and leaves of fragrant violets, Chinese tea leaves, licorice root, fennel fruit, valerian roots, leaves of eucalyptus ball. Drink from these granules is recommended to drink three times a day for respiratory infections, which are accompanied by sore throat, nasal congestion, malaise, weakness, cough, fever.
"Linkus ENT" (lozenges or lollipops) - manufacturedwith mint, orange, lemon, honey taste. As active components in them are taken at substantially the same dry extracts from plants, and in the manufacture of a syrup. Pastilles have to resolve every three hours in the oral cavity. They relieve pain, have antibacterial, expectorant, antitussive properties.
Ointment "Linkus Balm" - it can be applied three times aday on the neck and chest, and lay down under a blanket. Can be applied even to children, since the age of three, with the proviso that no allergy to the components that are specified as part of the means. After the application it is necessary to be sure to wash your hands well to avoid further contact with the ointment on the mucous membranes of the mouth, eyes, nose. In the ointment include: levomenthol, turpentine oil, camphor, eucalyptus oil and clove.
Although Linkus syrup, lozenges, granules and ointments can be purchased over the counter without a prescription, be sure to consult with your doctor if medications will benefit you.