To begin the professional activity andplaying sports can be no earlier than 3 months after the operation. It is necessary to avoid excessive loads, especially shocks, weight lifting, sharp turns and jumps.
Content
Life after surgery
A few months after thejoint arthroplasty can continue the professional and private life, as well as sports. However, it should be at a moderate recovery of active movements. It is necessary to avoid excessive loads, especially shocks, intense movements, lifting, jumping and excessive turns.
It is best to make sure that the sport is notIt causes severe stress on the joints (for example, very useful walking on soft ground, as well as cycling, swimming and light jogging cross country). Load after surgery should be gradually increasing.
The level of physical activity is determinedload which can sustain an artificial joint does not play an important role and style of life of the patient. Younger patients, who are more physically active, especially the need to establish the most modern models of durable implants. The most common mechanical problem in total hip replacement - a loosening of the implant. This can happen for many reasons unknown, but one of the known causes - a partial wear of the artificial joint. In some cases, this leads to the need for reoperation.
Even in the absence of complications is necessarycarry out regular surveys in the coming years. Based on my experience, the doctor will be able to determine in advance the possibility of any complications, which otherwise can be found only in a few years.
Early diagnosis is based primarily onX-ray studies. In addition, the doctor will monitor the dynamics of rehabilitation and integration features of an artificial joint in the body.
Useful activities after arthroplasty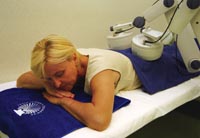 Gymnastic exercises are not recommended to startearlier than the 2nd month after surgery to install an artificial joint. This requires a mandatory consultation of a rehabilitation doctor. Massage can be carried out 3 months after the operation (except the surgical site).
After 3 months after the operation you should takean X-ray to monitor the healing process and the timely identification of negative results. When the pain in the operated joint can take painkillers tablets or suppositories (eg, indomethacin).
During the first months after surgeryit is recommended to keep a special roller (pilot), 10-15 cm. in diameter, and between the thighs. For the prevention of thrombosis (blood clots) is recommended bandaging of the lower limbs (for 3 weeks after surgery), as well as the reception aspirin and 1 tablet of 250 mg 1 time a day for six weeks. Any seats, chairs and especially the toilet should be high. You can use improvised lining.