Hypervitaminosis of vitamin D in children develops in excess of the daily dose of vitamin. The disease is characterized by hypercalcemia and severe lesions of internal organs.
Content
---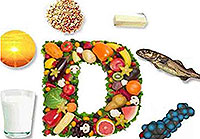 In children
age the risk of developing rickets - a disease that occurs
amid of vitamin D characterized by the development and chest deformities
cells, softening of the bones of the skull, the occiput flattening and other disorders
musculoskeletal system. However, an excessive content of this vitamin (hypervitaminosis D) in children is not dangerous
less than a vitamin deficiency. That is why it is so important to comply with dosage
the use of this drug and do not administer any medication without child
prior approval from the doctor.
Accepted
distinguish between chronic and acute forms of hypervitaminosis
D in children. Typically, pathology develops in children the first two years
life. It is in this period, pediatricians recommend that in the winter season to spend
prevention of rickets using vitamin complexes containing calcium and
vitamin D, or applying an oil solution with vitamin D. Effects
Overdose can be grim.
complications
hypervitaminosis of vitamin D in children:
Stunting, which often features
persist for a lifetime.
Epileptic seizures.
Damage to the kidneys and the cardiovascular system.
Immunosuppression.
Refusal of food.
Cardiosclerosis.
Depletion of the body.
Hypervitaminosis D in children is a very serious pathologies. Parents should
to be very responsible when using vitamin supplements, and in
the appearance of any doubt, immediately seek qualified
medical help. The daily need of the child in
Vitamin D - 400 ME per day. Overdose is developing the systematic exceeding
this number. Parents often do not even notice. In order to avoid hypervitaminosis arose
vitamin D in children, it is necessary to give the drug only in the recommended
amount by measuring spoon, syringe or severely dropwise.
Symptoms of hypervitaminosis
Due to the fact that an overdose develops gradually,
hypervitaminosis symptoms and disease symptoms may not be apparent. It should also be taken into account
the fact that children with intracranial trauma, hypoxia, neurological
disorders have an increased sensitivity to vitamin D.
At the heart disease is a violation of calcium metabolism.
Increases calcium absorption in the intestine, leading to hypercalcemia.
There are disorders of mineral metabolism. Calcium is deposited on the walls
vessels and internal organs. Violated the kidneys, decreased absorption
phosphorus, glucose, amino acids, with the development of hypophosphatemia, acidosis,
hypoglycemia. This results in reduced levels of potassium and magnesium in a child's blood and
increasing concentrations of citric acid. There is a depression of bone functions
brain.
During hypervitaminosis osteoporosis progresses,
disrupted the parathyroid glands. Vitamin D contributes to the overabundance
Development of destructive oxidation and the development of free
radicals, which in turn may lead to the emergence of malignant
cells.
A child with symptoms of hypervitaminosis vitamin A
D may appear:
Poor appetite.
dyspepsia
(nausea, vomiting).
Depletion, baby
He looks haggard.
Thirst.
elevated temperature
body.
Convulsions.
Cardiopalmus.
High blood
pressure.
blanching of the skin
covers.
Reduced muscle
tone.
Anemia.
Treatment of vitamin D hypervitaminosis
Treatment of vitamin D hypervitaminosis in running
cases carried out in a hospital environment. Therapeutic measures aimed at
detoxification of the body of the child, the prevention of complications and
restoration of internal organs and systems. All preparations containing
calcium and vitamin D, should be repealed. When dehydration is introduced special
solutions (reopoligljukin, gemodez), remove excess calcium and spend
symptomatic treatment.