What is mental retardation? Can a child with mental retardation develop and learn? Read this article.
Content
Mental retardation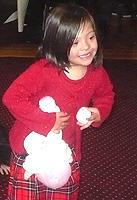 Mental retardation is not a mentaldisease and a specific condition, when the intellectual development of the child is limited to a certain level of functioning of the central nervous system.
The mentally retarded child can develop andstudy, but only within the limits of their biological features. This truth is quite tragic for parents of mentally retarded children, because they want to do everything possible so that their child was "all."
Mental retardation is not treated. Your doctor may prescribe a stimulating treatment, if there are no contraindications, but its effect can be realized within the biological capabilities of a particular body of the child. Thus, the forecast for the development and social adaptation of children with mental disabilities to a large extent depends on the education and training system.
Depending on the degree of mental retardationpossible to achieve larger or smaller results. Please be aware that children with imbecility and idiocy (moderate and severe forms of mental retardation) are disabled child, receive a pension and have a guardian, or can be placed in special social welfare institutions.
In working with this population of childrenpsychopathology, except diagnostic work, spend most consultative and psychotherapeutic work with the families of these children. Not all parents can cope with grief, in addition, these families often grow intellectually and high-grade children. They also need psychological support.
Children with debility

Children with retardation (mild mentalretardation) have other problems. These problems relate primarily to the inability to successfully learn the program of mass school. Translations child to a special school is a tragedy for most parents.
Different countries have different approaches to the issue,where and how to teach mentally retarded children. It is proposed to train them either in the general stream of children, or differentiated in special schools. In Russia, until recently, children with a diagnosis of "debility" trained in a special school. In recent decision of medical and pedagogical commission is often ignored by parents.
The mentally retarded child enters thecorrectional school (now called auxiliary schools) only with the consent of the parents, but many parents are looking for workarounds. Since most of the mass of schools are currently working classes correction, alignment, and so on. E., The children with retardation can also be found there. Some private schools also learn to mentally retarded children.
A huge problem is the adequate educationchildren with mild mental retardation, which determines the future social and occupational adaptation. The fact that the good adaptation matured, they dissolve in life. Work (usually a simple job), to start a family, children are full-fledged members of society. Psychopathology can be of great benefit, carrying out regular counseling of mentally retarded children and their parents.
Note that mental retardation and mentalretardation - basically the same, but speaking about oligophrenia taken only when the cause is set accurately. In those cases where the cause is not precisely known, more than use the term "mental retardation"