Why there hydradenitis (purulent inflammation of the sweat glands)? What to do to prevent the emergence of hidradenitis sup-?
Content
hydradenitis

Hydradenitis - a purulent inflammation of the sweatglands, which are located mainly in the armpits, and much less in the crotch area or around the nipple. In the past, this disease was called "bitch's udder." It is believed the disease to abrasions, scratches, including those produced by shaving, diaper rash, non-compliance with the rules of hygiene, the use of depilating agents, general weakness, some endocrine diseases, especially diabetes, and in women - a violation of the sweat glands function. The agents of this disease are staphylococci. These bacteria enter the sweat glands or through their ducts or by lymphatic vessels, then gland through the surrounding fatty tissue.
Manifestations of hidradenitis sup-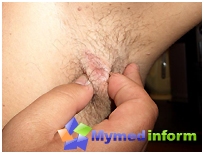 At the beginning of the disease at the site of inflammation occursitching, appears dense to the touch is very painful swelling in diameter from a few millimeters to 1-2 cm. Gradually, the size of the swelling and pain increase. The skin over it becomes purple-red. Center swelling gradually softened, opened, and through the hole begins to stand creamy pus. The life cycle of infiltration continues 10-15 days. Healing hidradenitis sup- culminates in the formation of scar.
Often in the process of inflammation involved neighboringsweat glands. This forms a very painful extensive infiltration of the skin on which it becomes lumpy. When successive defeats of more and more sweat glands process is delayed for a month or more. The disease is often accompanied by severe general reaction of the body with fever, headache, leukocytosis. Hydradenitis often recurs. Improper and belated treatment of exacerbation of the disease can be repeated dozens of times. With timely treatment of the present recovery will be in 5-15 days, although in some cases, possible relapse.
How is hydradenitis

The hair in the lesion must be cut. The skin in the lesion should not be washed and cleaned twice a day salicylic alcohol. On the lesion superimposed clean Ichthyol. After opening hidradenitis sup- apply bandages with the hypertonic solution. In all forms of the disease may begin before antibiotic therapy.
Prevention is the main hidradenitis sup-manner in compliance with the rules of personal hygiene. Regularly take a shower and wipe the armpit disinfectants (boron or with ethyl alcohol, cologne, deodorant). We do not recommend frequent shaving hair in the armpit. In the case of abscess formation process applied surgery, opening and drainage chamber.