Power plays a big role in periods of treatment and restoration of the liver after hepatitis. Full-fledged menu with lots of fruits and vegetables, solid grains and «Good» Fats reduces the liver load, and abundant drink helps the detoxification process.
Content

Hepatitis Power Principles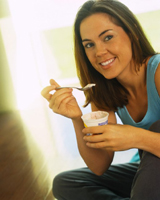 Acute hepatitis may have an infectious or toxic-allergic origin. Due to the lesion of liver cells, its functions and metabolism are significantly changed.
Therapeutic food provides improved liver function, normalizes metabolism, stimulates rehabilitation processes.
Food should be rich in proteins (100-110 g) and lipotropic substances (choline, methionine).
Preference is better to give vegetable oils (sunflower, corn, olive and t.D.) because they have unsaturated fatty acids. Creamy oil is allowed from animal fat, and the rest of the fats should be dramatically limited.
The diet enriches easily digestible carbohydrates (sugar, honey, jam and t.D.). It is equally important to take vitamins (retinol, group vitamins B) or feed them with products containing them. Vitamins contribute to restoration of liver functions.
The amount of fluid is not limited. It is recommended to drink fruit, berry and vegetable juices, compotes, kisins, weak sweet tea with jam or honey, decoction of rosehip.
Forbidden: alcohol, chocolate, cocoa, dough, sorrel, spinach, fatty meat and fish, meat and fish, mushroom broths, fatty creams, fried dishes, smoked meals, canned food, marinades, pickles, sharp dishes and seasonings (vinegar, mustard , onion, garlic), ice cream and other cold dishes and drinks.
It is necessary to eat 5-6 times a day. This activates biliary release, prevents stagnation of bile in the liver.
Approximate menu with acute course of the disease
Diet after improving well-being
After improving well-being, you can go to a less gentle diet.
Exemplary menu:
Breakfast: cheese souffla, baked in sour cream, porridge rice milk, tea with milk, butter bread.
Lunch: dairy soup, cabbage rolls stuffed with boiled meat with vegetable oil, jelly of apple juice, rye bread.
Afternoon person: tea, bread with butter.
Dinner: buckwheat porridge, tea, bread with butter.
For the night: a glass of kefir.
During the day, the norm: wheat bread – 200 g, rye bread – 200 g, butter butter – 80 g, sugar - 50 g.
Due to the slow restoration of the functions of the liver, this diet must be adhered to within 4-6 months.