Analysis of PAPP-A in pregnancy: the meaning and interpretation of the results.
Content
---
Blood on PAPP-A in pregnancy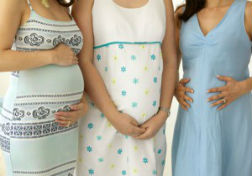 PAPP-A (a portmanteau of Pregnancy Associated Plasma Protein A.), Or pregnancy-associated plasma protein A - protein normally synthesized during pregnancy fetal membranes.
Functions of PAPP-A in pregnancy:
stimulation of growth and differentiation of tissues;
regulation of immune response during pregnancy.
Indicators Papp levels during pregnancy canuse for screening and monitoring of a number of pathologies in women and fetus. For this reason, quantitative determination of PAPP-A, along with tests for AFP, hCG and estriol, is recommended for use as an obligatory study of pregnancy.
Interpretation of the results of tests for PAPP-A in pregnancy.
Unit PAPP-A levels during pregnancy - IU / ml or U / L.
The rate of PAPP-A in pregnancy:
Week 8 - 0.2-1.5 mU / ml;
12-14 Week - 1-8,6 mU / ml.
Reducing the level of PAPP - a possible sign of the following pathologies:
a high risk of chromosomal disorders (Down syndrome, Edwards syndrome, and others.);
the threat of spontaneous abortion in the early stages;
developing pregnancy.
The final diagnosis is only placed by a gynecologist, and only after a series of additional tests and studies.