Experimental antiseptic stimulator Dorogova - a product of the chemical distillation of animal meat and bone meal, which proved to be very effective in the fight against many diseases.
In severe destructive World War IILaboratory of many scientific institutions of the Soviet Union worked hard to create an effective drug for the treatment of diseases of different origin. Weakened by systematic malnutrition organisms Soviet people, even more aggravated by the constant nervous tension, demanded rapid recovery of strength and energy. Since the natural conditions of life, this process takes a long period of time, it was decided to the invention of special medical stimulant.
History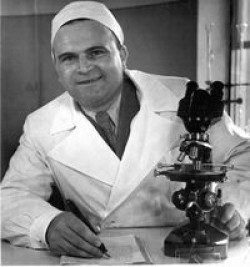 In 1943, many academic medical institutionsWe received a top-secret government order to create a special new generation of drugs. This therapeutic agent should be effective to protect humans and animals from excessive radiation, contribute to a substantial strengthening of immunity, as well as to be accessible and affordable for mass production. It should be noted that not all research teams were able to cope with this serious and responsible task.
After years of research and selflessworking scientists in 1947, the All-Union Institute of Experimental Veterinary Medicine (VIEV) presented a newly developed drug called "ASD fraction 2" fully meets the requirements of the government's job. The head of a special research laboratory AV Dorogov proposed a completely unconventional approach. As the available feedstock used tissue frogs, processed by long-term heat treatment and further liquid condensation. The use of this means for the person had a surprisingly wide range of effects that were caused by immune-stimulating, antiseptic and wound-healing properties of the drug.
research
The idea of ​​animal tissues used in the treatment lies insuccessful healing practice Dorogova mother, who applied the ancient recipes "miraculous potions." For centuries, witches and wizards have successfully treated various diseases by means of a live scorpion, lion heart, eagle wings, frog legs, and many other materials of animal origin. Persistently been engaged in research of this phenomenon, the scientist Dorogov achieved outstanding success. His favorite saying was the famous phrase from the Holy Scriptures that says: "death by death ...."
At the beginning of the first experiments of creating "SDAFraction 2, "which was later shortened the name" Stimulator Dorogova "used fresh tissue of dead frogs. Later, however, the production of an outstanding scientist Alexey Vlasovich way to start to use meat and bone meal. High temperature sublimation from dry completely erases information on what type of organism was used as feedstock. The first received the drug had no biological and therapeutic value, but a fraction of the number 2 and 3 had the unique medicinal properties. These compounds were readily soluble in alcohol, water and fat.
The second and third fractions were suitable ASDfor a significant impact on human and animal organisms, the third formula has been designed exclusively for outdoor use. The second fraction is a stimulator had a wide range of therapeutic effects, it effectively helps in the treatment of cancers, gynecological pathologies impotence, Obesity, baldness, hypertension. Incredible effect positive effects have been identified in cardiovascular diseases, diseases and disorders of the gastrointestinal tract, tuberculosis, Spasm, various ulcers, colds, andin many infectious diseases. For the treatment of various diseases different proportions used application and treatment regimens. A revolutionary drug was present panacea XX century.
Description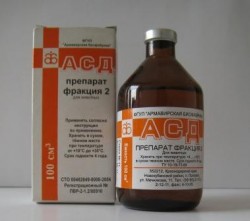 The drug "ASD fraction 2" - a liquid formmedicament dark red or dark orange color with sharp, unpleasant odor. It comes in a 100-milliliter flask and the resulting long-term storage can give a precipitate which is readily filtered. By its pharmacological properties Dorogova stimulant related to biogenic drugs with a pronounced antiseptic. Under its influence there is a significant activation of the nervous system, reduced toxicity, improved immunity, and significantly raised the overall tone of the body.
"ASD fraction 2" contains cyclic andaliphatic hydrocarbons active compounds with sulfhydryl groups, carboxylic acid amide derivatives and water. This unique therapeutic agent can be used both for external use and administered orally. External application Dorogova stimulator intended for accelerated regeneration of damaged tissues as antiinflammatory antiseptic, as well as for stimulating the reticuloendothelial system. Internal use of this drug shown to activate autonomic and central nervous system, stimulation of the digestion enhancing Resistance (resistance) of the body, and for the normalization of intracellular ion exchange.
At present, modern medicalPractice for some reason does not provide for the use of "ASD fraction 2" for the man. Perhaps this is because the secret magic bullet impact of the drug on the body and has not been exhaustively studied. In 1955, the great alchemist's laboratory was disbanded, and in 1957, before the age of 50 years, Alex Vlasovich Dorogov died suddenly of a heart attack. However, this medicine can be ordered in veterinary pharmacies. Numerous positive responses indicate a high effectiveness of this drug in the treatment of the most complex pathologies. Normally this means resorting when there remains no chance of recovery. It is a pity that modern medicine has no interest in further study of the works of the great healer of our time.