We offer you a smallphoto-selection of the most fat people in the world as the living and departed in another world. No matter how many doctors and scientists talked about the dangers of obesity, these fat men do not look unhappy.
Thick man
1. Patrick was born Dyuell in 1962, resides in the United States. At 42 he went to the hospital with problems caused by severe obesity: a man weighed 486 kgs! After spending a lot of money on treatment, he lostfirst at 206 kg, then continued to follow their way of life, and now weighs 152 kg and is going to have an operation to remove sagging skin, whereby its weight will decrease even more.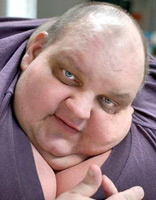 2. American Francis John LaingBorn in 1934, he blamed its obesity drug, which began to take after the army (the army weighed 68 kg). plump up 538 kgsHe refused to recognize that the incredible weight gain blame overeating. However, sitting on a diet and start to move it to 46 years to reduce the weight to 167 kg.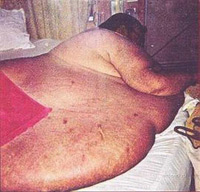 3. Mexican Manuel Uribe Garza born in 1965 and today is considered the thickest person among the living. In 2001, when his weight reached 560 kgsHe could not himself get out of bed and doelementary things. 5 years, he has lived in the stillness, and only in 2006, appealed for help. Under the guidance of well-known nutritionist Garza lost weight by 200 kg and thus fell into the Guinness Book of Records.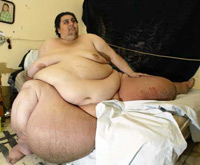 4. Jon Brower Minnoh, A US citizen, born in 1941 and lived for 42 years old, with a maximum weight of 635 kgs recognized as the fat man in the world. I managed to get into the Guinness Book of Records for the fastest weight gain - 90 kg per week.
fat women
1. Percy Pearl Washington, An American, has left more of himselfamount of information, other than that a woman among the five most fat women in the world. Year of birth unknown, died in 1972, retaining its memory as a single, but the wonderful photos. The maximum weight was Percy 400 kilograms of.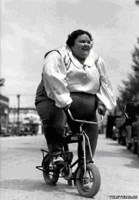 2. Jocelyn da Silva was born in Brazil, he has lived 37 years and died in1996, entered the top five most fat women of the world. At age 15 she began to eat much, preferring sweet and starchy foods. She rose to prominence by typing 406 kgs. Having known it with the help of a veryrigid diet program highlighted the weight of 160 kg. However, after the end of the program the weight crept up again. It is noteworthy that the cause of death was not obese and pneumonia.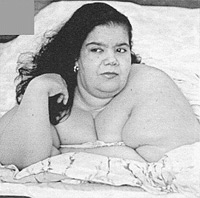 3. fattest man in the world and the thickest woman in history is Carol Yager with a maximum weight 727 kgs. She lived for 34 years. however, officially recorded weight Carol was "only" 544 kg. 727 - the number that called people familiar with Carol personally.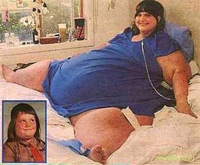 4. Jessica Leonard closes our list with the title of the fattest child in the stories. At 4, she weighed 100 kg and the maximum weight was recorded in 7 years - 222 kilograms of! On the day a girl gets 10 thousand calories,whereas the norm for a child her age - 1800. She eats almost alone fast food, with huge portions. When her mother brought to justice for the harm the child's health, Jessica took a course of treatment, and uncovered 140 kilograms. It is hoped that it will achieve an acceptable result and live a long and happy life.