Lots of fun, at least liability - the essence of any holiday romance. Some people are lucky - and after the holidays are only pleasant memories, someone less lucky ...
Content
Past does not blow over
---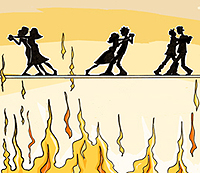 Experts assure: Now almost all sexually transmitted diseases can be successfully treated. In the treatment of trichomoniasis in time detected it will take 5-7 days, gonorrhea - 7-10 days, the initial stage of syphilis - less than a month.
The main "brake" in the treatment of venbolezney, according todoctors, this tightening campaign to professionals and self. Venereology say that, at the end of last year, the situation with venboleznyami we pretty quiet. The number of infections of syphilis and gonorrhea in general over the past 2-3 years has decreased by 10%. Nevertheless, do not relax. The resort is quite possible to pick up (descending): syphilis, gonorrhea, trichomoniasis, chlamydia.
On what will be treated? The first variant. Random partner turned out to be ill with syphilis. You are in doubt: Is it possible to become infected after a single meeting? Syphilis - a very "sticky" infection. Not only that, you are likely to have caught the first time, but almost from the first day of the infection have also become a carrier of infection. The latent period of syphilis lasts about three weeks. Then, on the site of the introduction of Treponema pallidum (the causative agent of this infection) there is a chancre - ulcer round. It's a classic. But now an increasing number of asymptomatic cases of syphilis. Besides chancre may be "hard to reach areas" such as the cervix in females.
Option Two. In memory of his passionate lover she left gonorrhea and non-gonococcal infections (chlamydia, trichomoniasis). Their incubation period can last from 3 to 7 days. At this time, the likelihood of infecting someone else regarded venereologists approximately 50x50. So it is better not to risk it and after suspicious contact or completely give up sex (before the visit to the doctor), or to use a condom in addition - spermicides.
If you still have fallen victim to gonorrhea or chlamydia,then the maximum of a week will be: pain during urination (in gonorrhea - more severe, sharp, with other infections - non-intensive, rather as discomfort); thick white, yellowish or greenish discharge. This is a symptom of diseases of the mass of sexually transmitted infections - even recurrent thrush. So, in order to correctly identify the pathogen, it is necessary to pass inspection.
Before writing down the medication, your doctorResearch: If you suspect syphilis and viral STDs (HIV, hepatitis), the first thing you need to do a detailed analysis of blood. For the detection of the causative agent of sexually transmitted diseases need: smear (bacterioscopy), crop (bacteriological examination), in complicated cases - PCR (polymerase chain reaction). However, the use of PCR for the actual allocation of chlamydia and trichomoniasis, gonorrhea, syphilis, especially the analysis of any useful information does not. Simply it is expensive, and many private clinics, he was appointed "at the same time."
You will do very well, if at firsttwo to three hours after unprotected sex using an antiseptic solution - miramistina or chlorhexidine. We have all heard that venbolezni treated with antibiotics and antibacterial drugs, but what specifically needed in your case - can be solved only by a specialist.
Self will only lead to the fact that the picturedisease would be greased - and you problems, and the doctor more work. And another thing: folk remedies (.. Herbs, decoctions, etc.), sexually transmitted diseases are not treated at all. Die, you most likely will not die (unless severely neglected syphilis can be fatal). But: a) perezarazite lot of people, if you care about this issue; b) does not avoid serious health problems.
Men untreated "interesting" disease is inevitablelead to the development of prostatitis, which close to the infertility and prostate adenoma. Women may also suffer reproductive function or complications arise during pregnancy and abnormalities in the unborn baby's development.
If you come into unprotected within a monthsex with five different partners, the risk of catching one of the 20 infections, sexually transmitted infections approaches 100%. Sexually transmitted diseases are highly contagious. If you have had unprotected sex with a sick person, the probability that the "storm will sweep past" - only 0.1%. Diseases, sexually transmitted infections, picks up 2 million. Russians a year.